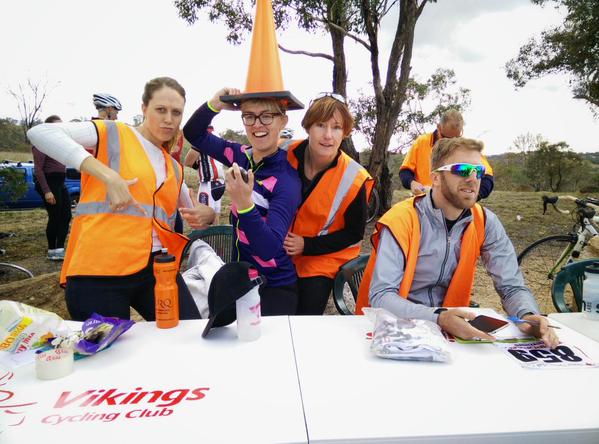 The Vikings allocate Race Directors and Marshals to each club race.  Vikings members are expected to help out with one race a year as a marshal, or a race director for more experienced members. The committee will endeavour to provide plenty of notice and support for volunteers. If you are unable to make your rostered event please arrange a swap or a replacement and let us know.  We would like to thank in advance all our marshals as without you we cannot hold races.
If you cannot marshal on the day for which you have been rostered, or would prefer to race, then we ask you to:
find a replacement for yourself – ask around family/friends/other cyclists
email or phone the Race Director with the contact details of the new marshal.
Please do not leave it up to the Race Director to replace you, as they have sufficient work to do as it is.
Instructions
If you're Race Directing…
At least two weeks before hand, remind and confirm the marshals.
At least one week before, inform marshals of what time to arrive, what their role will be, where they'll be stationed. Please send them the marshals instructions (see below).
The week before, put out a reminder of the race details on the Google group and send info to put in the V-Mail.
On the morning, allow sufficient time to put out the signs as per the marshals instructions. It is a requirement of the approvals that we have the signs set up this way. Marshals can be asked to bring the signs back with them but please account for all signs at the end – we can't leave a 40km/h sign out there all week!
Bring the money box, numbers, sign on/results sheets and pens, table, chair, signs, lolly pop signs, cones and first aid kit.
Registration must be opened 30 mins before the race starts, at a minimum.
The race briefing must include a summary of the course (all courses will be posted on the website so riders should know), an urge to keep left and the assertion that double line crossing will be penalised with disqualification (which doesn't mean ride on the double lines), obey all marshals instructions, ride safely and to the conditions, the reminder that it's only a club race and that there is therefore no need to take excessive risks. Also mention that riders are expected to respect each other and that swearing and intimidation won't be tolerated and any issues should be reported to the race director.
Results can be sent to whom ever is managing the website. Please format as a table or excel sheet, rather than pasting in the email. A race report with thank yous to the marshals is also a welcome addition for the V-Mail.
If you're Marshalling…
Download the marshalling instructions document for more information.