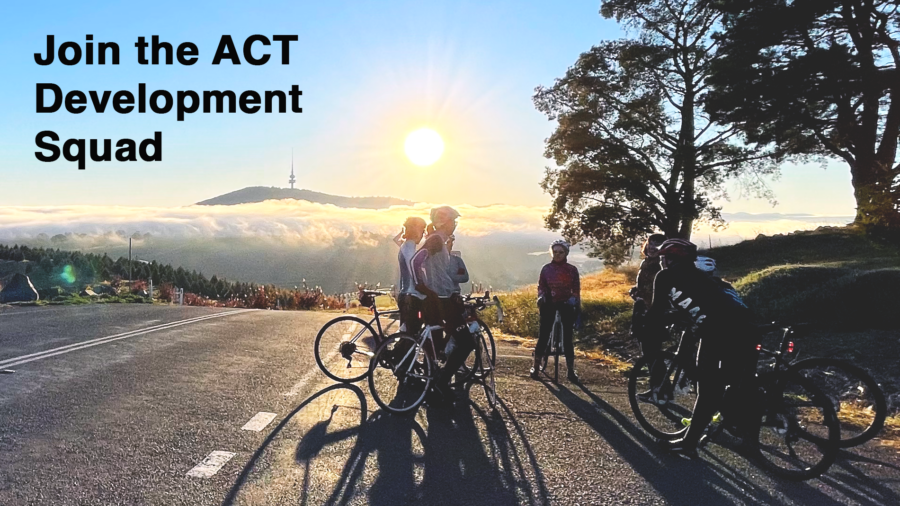 Are you ready to take your cycling journey to the next level? Do you need structured training for your next event?
Cheryl Hulskamp will be running a 6-week ACT Development Squad from 31 October until 7 December 2023.
This squad is open the all genders and aims to empower you to elevate your skills and abilities, improve your fitness, and make connections with fellow cyclists. Designed to build your fitness for events such as Tour of Bright or Peaks Challenge, together you will train with others to improve fitness, tactics, and nutrition.
All ages, backgrounds, abilities, and cycling clubs are welcome.
The cost of the entire program is $200.
Express your interest:
The Squad is now inviting expressions of interest from riders looking to join us. Applications close on Wednesday 25 October 2023. Register your interest via Expression of Interest form.
What to expect
Tailored Weekly Training Plan: Receive a customised weekly training plan designed to suit your fitness level and cycling goals
Masterclass Skill Development: Engage in masterclass-style skill development sessions that target specific skills
Duration: The program goes over 6 weeks starting on 31 October 2023
Inclusive Community: Join an inclusive community that welcomes individuals from all backgrounds, ages, abilities, and cycling clubs
Weekly Training Sessions: Tuesdays and Thursdays (6:00 AM to 7:15 AM) there will be on-road coaching sessions focusing on fitness and cycling skills. Sessions cater to various fitness levels
Masterclass Session: Saturday (8:00 AM to 10:00 AM) there will be an extended 2-hour masterclass session offering advanced climbing and descending skills training.
What you need
Road bike in a roadworthy condition, that is all brakes and gears working correctly, tyres in good condition, handlebar plugs installed, etc
Helmet that meets Australian standards (AS2062:2008)
Bike computer with cadence meter
Tools, such as Allen key, spare tubes, tyre levers, pump/CO2 canister
Lights (front and rear)
Current AusCycling membership
Water/food
Location
Tuesday and Thursday training sessions:
Most sessions will start from Lennox Gardens in Yarralumla
Meet at 5:55 AM for a 6 AM start
Sessions expected to finish by 7/7:15 AM
There will be a post-ride debrief session to discuss the training and ask any quesitons
Optional post-ride coffee
First session
Tuesday 31 October 2023
Time: 6:00 – 7:00 am
Location: Pavilion, Stromlo Forest Park
Session Focus: Introductions, helmet and license check, initial assessments and the first skill development session
Remember to bring your AusCycling license, bike and helmet
Meet the coach
Cheryl is a Level 2 NCAS Certified AusCycling Coach, with over 25 years of coaching experience guiding athletes in various cycling disciplines and abilities. She is passionate about helping individuals reach their full potential and is an accomplished athlete, having represented Australia twice a the World Masters Championships in Velodrome cycling, earning 6 medals. She has also competed in the National Road Series (NRS) and excelled in mountain biking (cross country and downhill) winning the NSW State Downhill Series.
More information
For further information, please contact Cheryl Hulskamp at cheryl.hulskamp@icloud.com