About the VCC junior cycling team
Vikings Juniors not only love riding their bikes, they support and encourage each other to achieve their best. We embrace all levels of ability and previous experience and focus on skill development to build awareness and safe riding.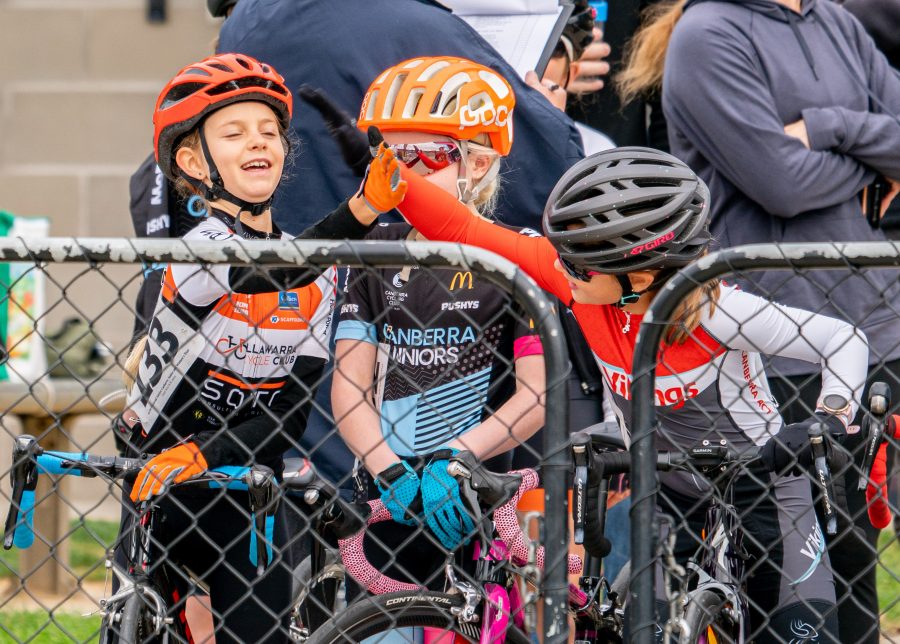 Our team of coaches work in a cooperative environment to provide a developmental pathway for riders aged from 7 years up until they graduate to more senior ranks at around 18 years. The Vikings junior coaching team is among the best in the country. Between them they have a suite of world, national and state championships as riders and coaches, both on the track and the road. Their complementary skills and interests cover the range of cycling disciplines and categories.
Our coaches volunteer their own time and currently there is no charge for our juniors to participate in our training programs.
Membership
All participants require an AusCycling membership. Information about the different licenses is on the AusCycling website. There is a Free 4-Week Trial membership available to anyone who has not held an AusCycling (AC) membership in the last 3 years. We encourage riders to join the Vikings Cycling Club as their preferred club.
Cycling kit
Recognising that our young riders outgrow shoes, jerseys and knicks all too frequently, we have an exchange store where we keep good gear to help get riders started. Donations are always welcome. The store is in the club container at the velodrome.
Types of training
Our squads provide training sessions for both road and track cycling.
Road/Criterium cycling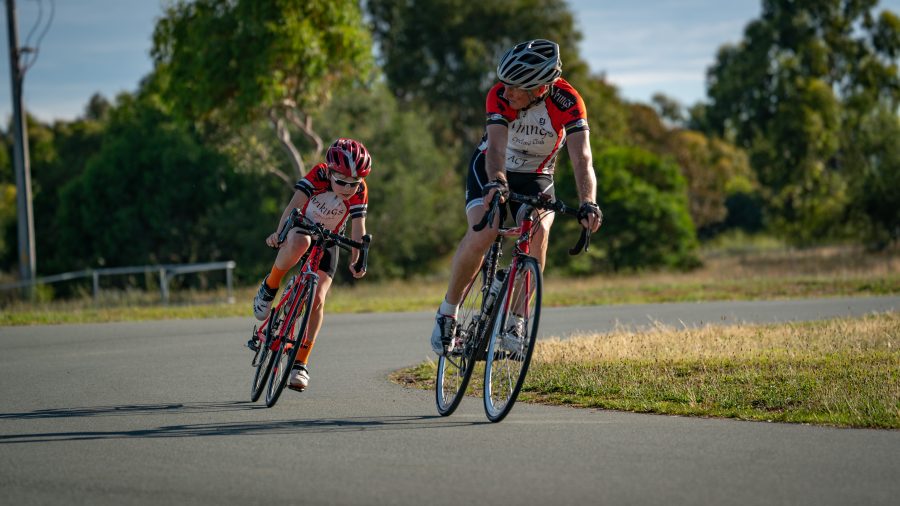 The road training component is primarily held on the Stromlo Forest Park Criterium circuit in the months of daylight saving (October to end March).
The circuit offers a motor traffic free dedicated cycling loop of 1.3 km, enabling riders to develop cycling skills in a safe environment. Our coaches monitor each rider's development pathway and offer a supported transition to racing. Criterium racing offers riders the opportunity to test themselves and develop bunch racing skills and understanding of the etiquette of safe racing, primarily during the summer months.
Usually, some of our coaches and experienced cyclists will ride with the juniors to provide mentoring and practical suggestions to enhance skills and performance in a supportive manner. Riders may then progress to 'on road' racing in a controlled envelope, again with experienced mentors when possible.
Track cycling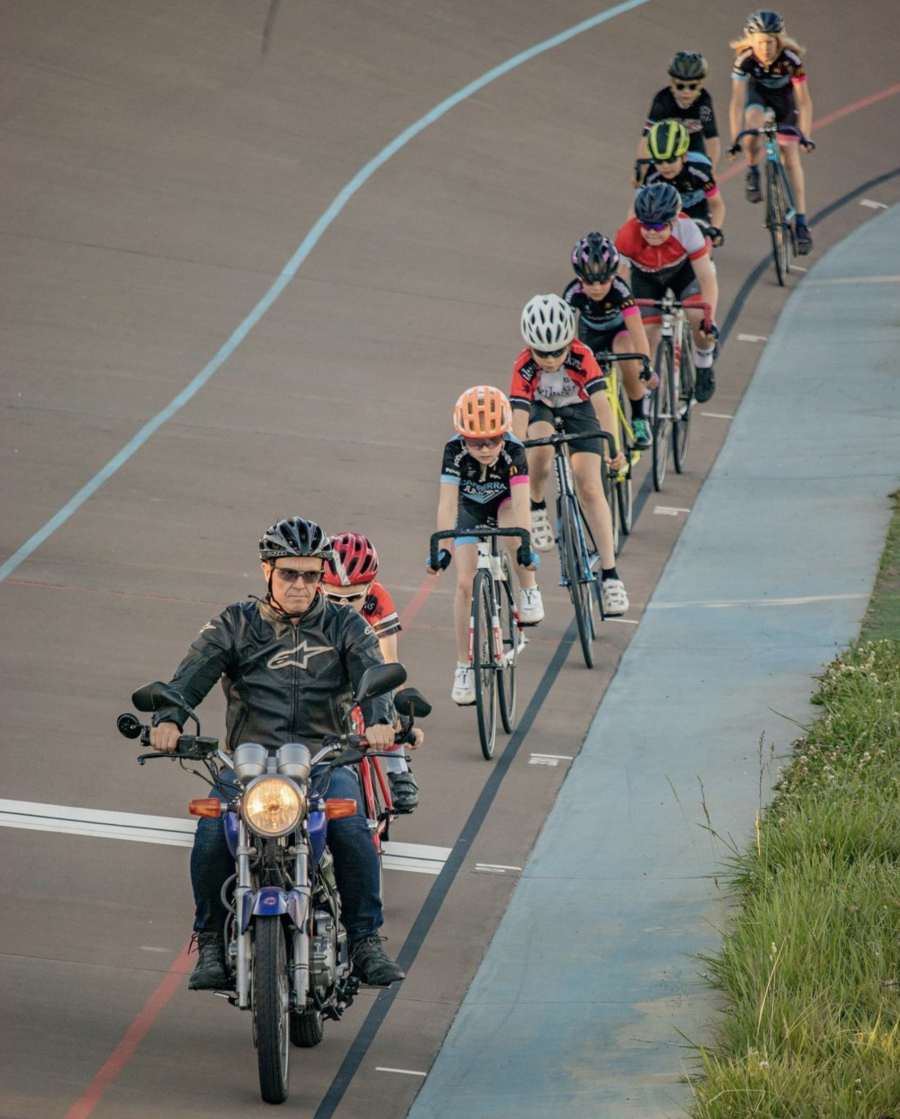 The track cycling component is held at the Narrabundah Velodrome aka the Bundahdome (Kyeema Street, Narrabundah). The club offers a year round training program where young riders can experience the exhilaration of track cycling from an early age.
The club has a range of 'track bikes' available for juniors to borrow. These bikes have been acquired through various sources including donation and club purchases. We simply ask our juniors to look after their bikes and the Velodrome, enjoy and respect the experience of our coaches and look forward to riding each week. Riders can get started with a helmet, some solid sneakers and an AusCycling membership.
A track bike has a single 'fixed' gear and speed is controlled by pedalling action rather than the gears and brakes of a road bike. The coaches provide allocation of bikes and a graduated development of skills and confidence, a process which differs for each person.
The velodrome is a banked oval facility of 333 metres circumference. Initially our novices ride on the flat apron at the bottom of the track, progressing to the banked track when they are ready. The club training sessions are held on Saturdays and race night is each Monday during daylight saving. Both training and racing is subject to the track being dry. A brief shower is usually ok but persistent rain will mean cancellation. Our Junior Communications Person sends updates and notifies any changes or cancellations via our media platform.
Current active coaches working with our junior riders are Sean Mulholland, Ray Gorrell, Dan Grillo, Gavin Macdonald, Cindy Fisher and Jim Veal. Masters coaches Paul Kennedy and Carlos Lopez help out when needed.
Many of our riders use track training to enhance performance, skills and tactics as well as to keep fit, however new riders to track are very welcome with coaches and more experienced riders providing guidance on getting used to track. With a wide range of events, track riding/racing can suit sprinters and endurance riders alike. Young riders (under 9 to under 15) are encouraged to learn and experience all types of track cycling prior to training for specific events as they mature.
Junior training schedule
Road/Criterium – Thursdays (daylight saving only)
The Super Crit Juniors are usually with Jim Veal and Cindy Fisher. A fun yet challenging skills session is followed up with a short time trial or Criterium event. As riders become more proficient, they have the option to join the Novice/E grade races. Our very experienced juniors ride in the appropriate graded races.
When: Thursdays during daylight saving only, from 4.30pm to 5.30pm
Where: Stromlo Forest Park
Registration: via Entryboss
Enquiries: Please contact juniors@vikingscycling.org.au for further information and to confirm training times.
Track – Saturdays
Summer training (during daylight saving)

12.30pm Novices and Minis (U9 and U11)

1.30pm U13 and U15

3.00pm Older juniors

Winter training

12.15pm to 1.15pm U9s and Novices
1.15pm to 2.30pm U11 and U13s
2.30 to 4pm U15s and up including Elite

Where: Narrabundah Velodrome, Kyeema St. Narrabundah
Registration: via Entryboss
Enquiries: Please contact juniors@vikingscycling.org.au for further information and to confirm training times.
Junior age groups
Juniors are grouped in two year brackets according to age at 31 December. Ages range from Under 9 (U9) to Under 19 (U19) years. An Under 11 can be turning 9 (1st year U11) or 10 (2nd year U11).
Gearing and rollout
Bikes raced by juniors must have restricted gearing, that is they are limited to the highest gear allowed. These gear ratios have been set to help develop pedalling skills, to prevent excessive loads on younger developing muscles and bones and to create a degree of evenness within each age category. There is often a tendency for younger riders to use gear ratios which are far too big.
One of the fundamental secrets to becoming a successful racing cyclist is developing the ability to pedal fast, that is at a high cadence or revolution rate. This is best achieved through the use of low gears, the use of the small chain wheel and a medium to larger cog on the rear cluster.
The limit on gearing is given as a "rollout" – the distance the bike moves for 1 full rotation of the pedals in the highest gear. The same gear limitation applies to both road and track cycling. A track bike has a single, fixed gear and rollout is adjusted by changing either the chainwheel or rear sprocket. The Club has a range of spares to enable compliance with all age group restrictions.
Rollout limits by age group
U9 5.5m
U11 5.5m
U13 5.5m
U15 6.0m
U17 7.06.5m
U19 7.93m
How to check the rollout
See our club coaches who are happy to advise you on gear selection and setting up a bike with correct gearing for juniors.
Adjust the front and rear derailleurs so that the chain is on the largest chain wheel and the smallest rear cog (road bikes).
Place the bike on flat, smooth ground, place the cranks exactly vertical so that one of the pedals is at the bottom closest to the ground.
Mark the ground directly under the centre of the crank. Wheel the bike backwards (so the chainwheel is turned) in a straight line until the chainwheel has completed one full revolution. At this point the same pedal is again at the bottom of the stroke. Put another mark on the ground directly under the centre of the crank.
Measure the distance between the two marks to give you the rollout distance.
Repeat the procedure, if necessary, by adjusting the rear cogs and/or chain wheel until the right combination is obtained.
Having found the correct combination, the screws on the rear and/or front derailleurs should be adjusted so gear selection is restricted.
It must be kept in mind that there are different tyre sizes and wheel dimensions which may affect the rollout, so it is best to check all details prior to racing.
It is best to check thoroughly your rollout before you race and if in any doubt speak to club coaches who will assist you. Please note that our club coaches are happy to advise you on gear selection and setting up a bike with correct gearing for juniors.
Riders found using gear ratios in excess of the above figures can be disqualified and the gears are always checked at open events and will be randomly checked at club events.
It should also be noted that all juniors must use detachable tyres with beading (singular tubulars are not permitted).