Women's Cycling in Canberra – Want to get involved?
We'd love to have you!

VCC is a great club for women and non-binary cyclists. We run regular novice events, are friendly and supportive and have a structured pathway for new cyclists for all abilities.
Cycling can be a daunting sport for newcomers! More and more women are taking up cycling as a sport, but it can still be quite overwhelming turning up to a cycling event for the first time. If you have questions or are not sure where to start, please contact Melany Toombs, the Vikings Women's Development Officer by sending an email to women@vikingscycling.org.au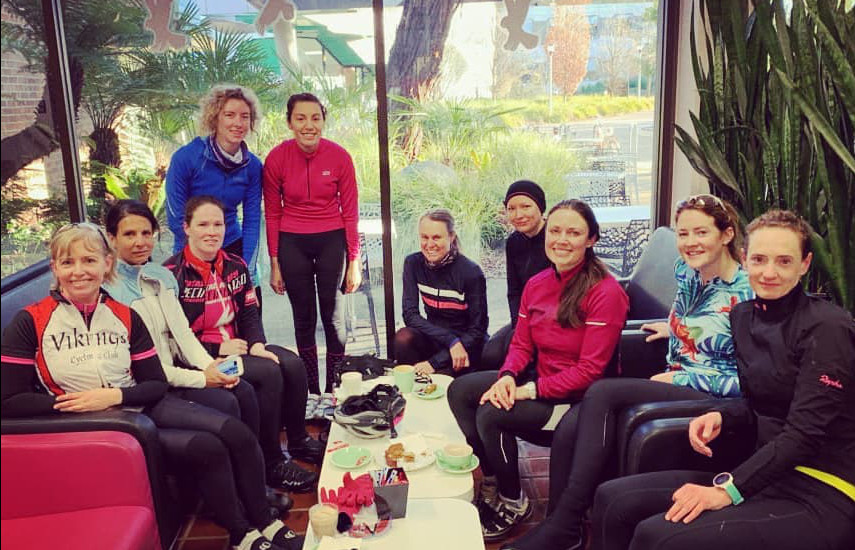 New riders can get comfortable with riding in one of our regular bunch rides, and can also meet other new cyclists. The club runs a Women and Girls Bunch Ride on the the first Tuesday of each month starting at 6:00am. This is a 22km, no-drop loop which is perfect for newer riders or those looking to meet other female or non-binary cyclists.
We would recommend joining the Women's Cycling ACT Facebook group to keep up to date on social rides with other women. If you're not on Facebook feel free to email women@vikingscycling.org.au and Melany can make sure you receive updates on future rides!
The club runs a Novice Program each Spring and occasionally runs an additional one in Autumn, depending on demand. The program will consist of eight weeks of skills session, bunch rides, a safe intro to racing, information sessions and most important of all, the chance to hang out with fellow cyclophiles. A club newsletter informs members of dates for our novice and other training programs. You can also check the VCC Novice Program page  regularly for updates.
We also run a Women's Development Squad in around October-November for more intermediate women riders who are looking to improve their skills, so stay tuned for that!
We recognise that not everyone is interested in racing, but we provide a welcoming and supportive environment if you would like to give it a go. You don't need to be a super athlete to try a local race. The challenge and training benefits you can get from local racing are a fun way to vastly improve your fitness, bike skills and contact with other cyclists including other Women riders.
Finally, check out our tips for Novice Cyclists.