Our Novice Program is aimed at bringing new riders into the world of road cycling and racing in a safe and supportive environment.
The program has been running since 2006 and has proved its ability to prepare riders for a safe introduction to bunch riding, and a successful first season of criterium racing. We will teach you about safety, bunch riding etiquette, communication, cornering skills and race tactics. While also helping to motivate you to improve your fitness in a friendly environment.
There is a focus on progression at a pace that challenges the individual. We cater to many different abilities and the program has successful club riders as well as those who've gone on to international fame. But most importantly the program is about meeting fellow cyclophiles and having a lot of fun.
Spring 2023 Novice Program
The 2023 Spring Novice Program will start from 5 September and go until 26 October 2023. You can chose to sign up for either the:
Tuesday group (session 1) – for those comfortable riding with an average speed of 25km/h or more
Thursday group (session 2) – for those more comfortable riding with an average speed below 25km/h
Each group will be limited to 15 and the full program costs $165, which includes a free Vikings Cycling Club jersey valued at $130!
Entries close Monday 28 Aug 2023 at 11:59 PM AEST.
Feel free to send any questions to novice@vikingscycling.org.au or sign up using the button below.
---
Read about the friendships you can make and the challenges you can conquer from some of our 2020 graduates.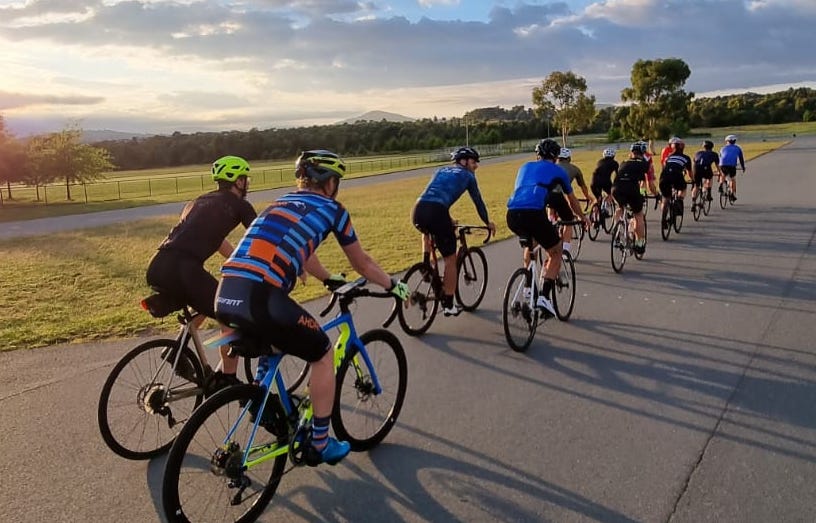 Why join the program
The program will help riders build their confidence for riding in larger groups and criterium racing. The Novice Program is perfect for you if:
you own a road bike with drop handlebars
you ride your bike regularly and are keen to improve skills, fitness and confidence
want to learn how to ride safely in a bunch
you would like to give a racing a go when you are ready
use clip-in pedals, though not mandatory.
Part of the program includes a bike maintenance night at a local bike store. You will learn the basics of bike maintenance, including fixing a flat tyre. The mechanic can also answer any questions you may have.
Entries are now open for the 2023 Spring Novice Program. Once the program starts, you can send an expression of interest for the next program (2024) to novice@vikingscycling.org.au. You will then receive advance notice of when the program will begin and when registration opens.
What to expect
Before the program starts, we will hold an information night to help you learn more about the program and meet a few of your fellow novices and existing club members. You will find out what you need, what it's like and any other questions you have will be answered to the best of our ability.
The program will run for 8 weeks from Stromlo Forest Park and will have two groups running on different days:
Race group
If you are interested racing or riding with the faster bunches and are reasonably fit, this group will be best for you. Generally this group will be fit enough to keep up the the M1 or M2 bunches at the Norman.
Gran Fondo/Sportif group
If you are newer to riding, building your fitness for Gran Fondos or prefer a more social pace, this group will be best for you. Generally this group will have a similar pace to the M3 or lifestyle bunches at the Norman.
There will be one coached session per week at the Stromlo Forest Park criterium circuit. Sessions will start at 6am and run until about 7:15am. There will also be opportunities to come together and ride some of the clubs regular bunch rides, including the famous Friday morning Norman.
Both groups will do the same program, the different groups are designed to align riders with similar interests and motivations for riding. Nearly all sessions will be low intensity, so don't worry about whether you will keep up with others. The first 4 weeks are focused on riding slowly and working on our bunch skills.
Through the program you will also get the opportunity to join the Vikings Supercrits (Criterium racing) will runs on Thursday nights during Daylight Saving. They are super fun, and there's a novice category race for first timers.
What you need
For equipment, you will need:
an Australian standards approved helmet, with the sticker saying it has passed AS/NZS 2063
a drop-bar road bike (no Time Trial aero bars or flat bar bikes)
a water bottle
warmer clothing than usual, as you will be stopping and starting for coaching.
Signing up for the program
Entries are now open for the next program, to participate you will need to:
Join the club by getting an AusCycling membership (see below)
Sign up and pay for the Novice Program through EntryBoss.
We also recommend only signing up for the program if you can commit to attending at least the first 2 weeks. If you miss these sessions, we have found that riders will not have enough confidence to participate fully in the rest of the program.
Insurance
There are different AusCycling memberships depending on what type of riding you will do. You will at least need a 'Lifestyle' membership to participate in the program and join Vikings bunch rides. Membership is required for insurance purposes.
However, we recommend you get a 'Race All Discipline' membership so you can get the most out of the program and participate in the criterium races. Whichever level membership you get, remember to select Vikings Cycling Club as your affiliated club.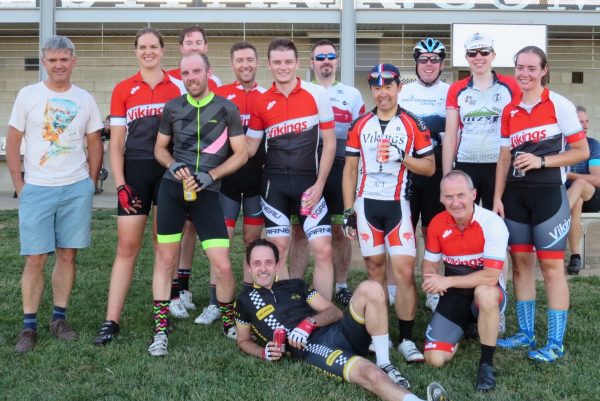 Come ride with us.
VCC
---