At 7pm on Saturday 30 April, the biggest party bunch ever rolled into the Howling Moon bar in Canberra.
The rooftop bar was packed with cyclists jostling to get to the hydration station and buzzing with excitement about who would win what.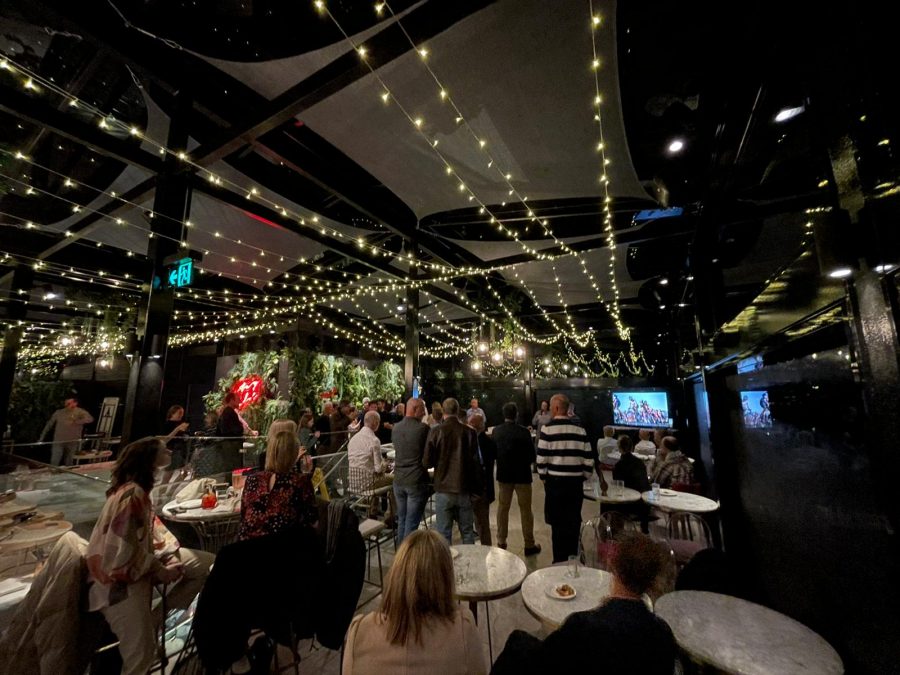 The formal part of the night kicked off with the junior and track awards announced by Llewella and Dan Grillo. Matt Dyne (Road Captain) then took over to announce the club awards. Finally, Melany Toombs (Vice-President and Co-Women's Development Officer) finished off the awards by handing out the crit awards. The full list of awards can be found below.
After a refuel, we came back together to hear from some familiar faces. Rob Fisher (previous President) started off the speeches with a reflection on how far the club had come and regaled the crowd with a story about what it was like to be dope tested during the e-racing series.
Michael Buerger (President) spoke about all of the club's achievements and how we have worked together as a community to support each other through a pandemic.
Melany shared the many, many successes of women's cycling in the club. From the novice track squad to social groups, female membership has been growing steadily.
To round out the night, local legend Jim Veal celebrated the juniors of the club and the success of the Women's Novice track squad who are now on track to worlds!
A strong contingent of cyclists stayed at the bar until kick out time showing an impressive feat of endurance. Thank you to everyone who came along and made it such a great night!
Junior and track awards
| Award | Winner |
| --- | --- |
| Junior of the Year (male) | Bailey Macdonald |
| Junior of the Year (female) | Emily Watch |
| Most Improved Junior (male) | James Bates |
| Most Improved Junior (female) | Sara Buerger |
| Leadership Award | Jackson Macdonald |
| Rookie of the Year | Ashleigh Maas |
| Most Enthusiastic | Matilda Bredeck |
| Special mention | The entire VCC Junior team |
| U19/Elite Track Rider of the year | Lily Stratford |
| Senior track rider (male) | Ryan Bates |
| Senior track rider (female) | Ali Hale |
Club awards
Award
Winner
Hard nut (generally hardcore)
Emma Padovan
Best wheel (the one you want to be on, great skills and race instinct)
Pete Storey
Soft turn (someone who never pulls a turn but is always Sprinting for the win)

All of the juniors
Volunteer of the year (biggest contribution)
The Grillos
Novice of the year (male)
Dougal Robertson
Novice of the year (female)
Justine
U19/Elite Track Rider of the year
Lily Stratford
Club member of the year
Charlotte Hempenstall
Most memorable moments
Karen swimming in the lake with her bike
Mel riding the Wasabi at 1.30am and again at 6am
Crit awards
| Award | Winner |
| --- | --- |
| Highest point scorer (male) | Jackson McDonald |
| Highest point scorer (female) | Peta Brill |
| Most likely to race (male) | Ian Preston |
| Most likely to race (female) | Peta Brill |
| A/B sprinter | Ryan Bates |
| C sprinter (male) | Michael Foulds |
| C sprinter (female) | Peta Brill |
| D sprinter (male) | Jarrod Taylor |
| D sprinter (female) | Liz Lowe |
| Zwift award | Kirsty Lower |