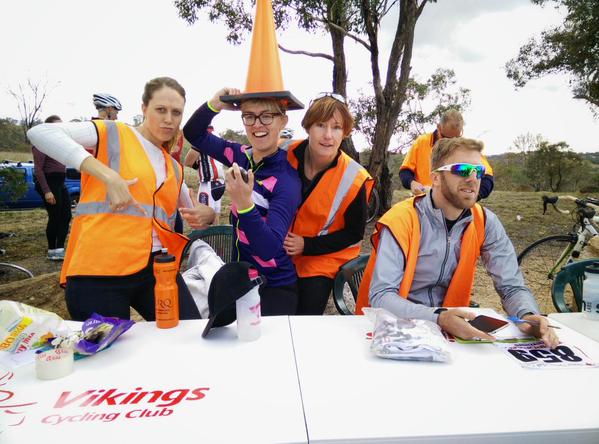 All of our races are run by volunteers across Vikings Cycling Club and Canberra Cycling Club. Members from other clubs are also welcome to volunteer and support racing in the ACT, and will receive the same incentives as our club members.
We are always looking for volunteers to ensure we can keep our programs and road, criterium and track racing going. If you volunteer two or more times in the season, you will get a discount code so you can access $10 race entry at each race in the season. The deal is even better for commissaires and race directors.
Volunteers make club racing work, thanks for your contribution.
How to volunteer
You can sign up to volunteer through every EntryBoss listing for a race or use this form to directly nominate for a race.
You can also see what volunteers are needed in the volunteer roster.
What are the roles?
Commissaire – Arrive for setup. Present at start-finish for the duration.
Race Director – Arrive for setup. Present at start-finish for the duration. Follows race director guide and checklists.
Assistant to Race Director – Arrive for setup, runs check-in desk, finish chute, collection of timing tags and numbers etc. May also need to wear COVID Officer vest, depending on health directions at the time. Present at start-finish for the duration
Setup helper –  Arrive for setup, help get everything ready, help with check in. Can race.
Check-in Desk – Arrive for setup, get everything rego desk ready and operate rego desk. Can race.
Turn Marshal – Arrive before racing commences, briefed by Race Director, stationed at the relevant turn(s) with Radio (not acting as a traffic controller)
Event Timing –  Arrive for setup. Timing, setup, pack up, results. Can race.
Lead / Follow Car – Arrive before racing commences, briefed by Race Director, drives car in front of or behind the race column
Van Driver – Arrive for Setup, assist with setup. Can race
The race director will conduct a briefing and confirm tasks on the day.
Can I volunteer and race on the same day?
Race Director, Assistant Race Director, Turn Marshall, and First Aid: You cannot race on the day you perform your duty unless you arrange for someone else (ie a friend or relative) to perform your duty on your behalf (must be as capable and willing as you are).
Other Roles (check-in desk, set up, pack up, van/trailer driver etc): You are welcome to volunteer and race on the same day. Just make sure you arrive at the race with enough time to do your job. Once that's done then get ready and race.
How long will it take?
You need to get to the race about an hour and a half before the first riders start time. This will allow enough time to get briefed by the race director and set up the desk before riders arrive for check-in. You should only need to be there for 30 minutes after the race has finished for pack up.
Incentives for volunteering
Volunteers will receive the following incentives at eligible Road Events:
Race Director once in the season – next race free, access to $10 race entry per race *
Race Director two or more times – access the whole season of racing for free *
Volunteer two or more times in a non Race Director capacity – access to $10 race entry per race *
To be eligible to claim these benefits you must have nominated and been allocated to a race.
*Excludes ACT Champs events
Can I volunteer for a race later in the season, but claim my free race now?
You are expected to complete your volunteer duty on the date(s) you nominate in the season. If you've nominated and been assigned to volunteer at a race in the future you can still claim the appropriate benefits before you've volunteered.
How do I claim my benefits?
Once you've been allocated to a race(s), we'll send you a special code that you'll plug into EntryBoss each time you register.
On the day of the race
On the day, generally:
All volunteers (including Commissaires and Race Directors) will meet at the start/finish ready for a safety and event briefing. An email to volunteers before the race will confirm time and location, but you are usually needed 1 to 1.5 hours before first rider starts.
The check-in desk will need to be set-up ready for the first arrival of riders from at least 45 minutes before first start.
Racing starts as per race schedule available on EntryBoss.
Need to make sure all riders return from the course.
Volunteers will pack up once all riders have cleared the course.
You will need to bring appropriate clothing, food and drink.
Races are run on open roads so please keep an eye out for traffic and any other dangers on the course.
About the race:
Contactless 'check-in' desk – maintain social distancing, no sharing of pens etc
COVID-19 Rules to be followed – details on the EntryBoss Listing
Additional Commissaires may be present (Commisaires in training)
The Race Director guide (including all volunteer role information) is available on the CCC website
Full details for roles and tasks
Commissaire
Is in overall control of the race. Shares their experience and knowledge with the volunteer event team. Helps with the smooth running of the race.
Is stationed and remains at the start-finish
Briefs Riders including:

Starting each race
Controlling and refereeing the race
Complete accident/incident reports as required

Manages and liaises with other commissaires assisting at the event as appropriate
Liaises with the Race Director for the safe, smooth, and efficient conduct of the race
Race Director
Reads the Race Director Guide.
Tip – make sure you come prepared to conduct your on-the-day volunteer briefing.
Racing cannot commence until First Aid coverage and a Commissaire are in attendance.
Wears the Race Director vest
Is an experienced club member
Prints copies of the Sign-on and results sheets from EntryBoss (or arranges electronic access to these)
Liaises with traffic controllers to ensure that the traffic controls are in place and traffic controllers are at each turn as required by the traffic management plan. Check that adequate (lots of) 'cycle race in progress' signs have been laid out.
Liaises with the Commissaire(s) for the smooth and appropriate conduct of the race
Conducts a volunteer team briefing and ensures all volunteers have been allocated and understand their role
Coordinates the volunteer team on the day and ensures all tasks are complete to enable safe and efficient racing
Marshals riders prior to their start
Collects the results sheets and prepares the results for publication
Sometimes drafts a brief race report to distribute to the membership with the results
Assists with setup and/or packup
Checks all riders have returned from the course and if any are still out makes arrangements to check/contact them and return them safely to the start/finish. Use timing chip return and finish results to determine if anyone is still on course.
Assistant to the Race Director
Works with the Race Director and helps with Race Directors tasks.
Acts as COVID-19 Officer as below
COVID-19 Officer
The COVID-19 officer is usually performed by the assistant to Race Director.
Tip – a friendly reminder for participants to maintain social distancing and not share equipment (eg pens) is usually all that's required.
This volunteer:
Reads the CCC COVID-19 Policy before attending the event.
Wears the Purple COVID Officer vest while at the event
Ensures hand sanitiser is out and available on the check-in desk
Monitors volunteer and rider behaviour and ensures that it is consistent with the CCC COVID-19 Policy.
Ensures equipment (pens etc) is not shared
Are usually stationed at the check-in desk
Assist other volunteers with the smooth running of the event (check-in desk, results chute, set-up and/or pack-up of equipment, coverage of roles for breaks, etc)
Check-in Desk (set up volunteers)
TIP – be setup and prepared early.
These volunteers:
Set up the check-in desk (with assistance from others if required)
Prepares race numbers (and timing chips) for efficient distribution
Ticks off rider attendance on the sign-in sheet (do not let riders touch the sheet, pens, other equipment). Note any number changes on this sheet and notify the results team. This may be via digital list on the club iPad
Assists with preparation of numbers and timing chips under direction from event timer (if timing system is to be used)
Issues and records temporary race numbers and timing chips (if used) allocated to riders
Records permanent numbers on the start sheet (if required)
Checks helmets for AS approved sticker
Receives temporary race numbers from riders post-race
Packs up the check-in desk (with assistance from others if required)
Assists with timing, finish chute and results once riders have started
Assists with general setup and/or packup
Finish Chute (race director, assistant race director)
Tip – The finish chute should be set up in a clearly visible and safe location well down the road from the finish line. Remember – riders may be coming in at speed and will need time to slow down and identify the chute once they finish. Your job is to call them into the chute in finishing order and record this information.
These volunteers
Set up a finish chute following instructions from the Race Director and Event Timer (if present)
Prepare the results sheet noting any number changes from the sign-on sheet.
Hold riders in finish chute while recording finish order (all places)
Record rider finishing order on the results sheet
Provide completed results sheets to the Race Director / Event Timer
Pack-up the chute at the conclusion of the race
Assist with setup and/or packup
The Event Timer (if used)
Prepares numbers and timings chips for efficient distribution by check-in desk staff
Sets up timings systems for operation on the day
Operates the timing system on the day
Prepares results following the event
Lead / Follow Car Drivers
Obey all traffic rules at all times
Role models safe, courteous and respectful driving
Displays flashing light and race in progress signage
Lead Car positioned approx 200m in front of leading rider in the leading bunch
Follow Car positioned approx 50m behind the last rider on road
Follow Car acts as a sag wagon, and check on riders with mechanicals / stopped on road.
Report all incidents to Commissaire / Race Director