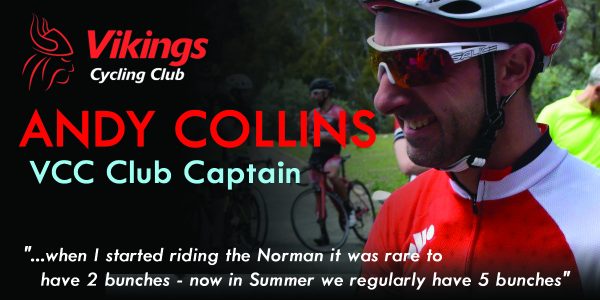 Andy, firstly thanks for everything you have done and keep doing for the club.  Take us back to when you first found Vikings.
I did the Novice Program in 2009 and thoroughly enjoyed it. Have been regular at crits and road races ever since. Have done stints in all capacities in running races and I've been Club Captain since early 2015.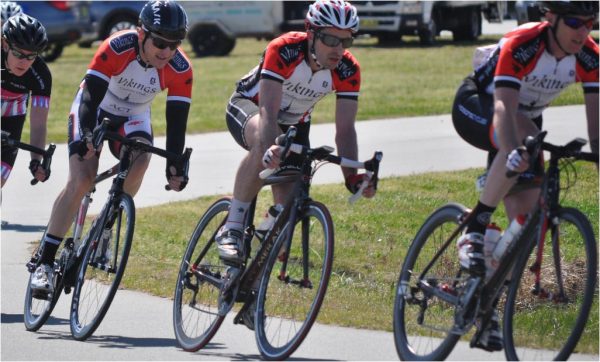 I've organised a bunch of non-racing events including Roller Racing (which I built the rig and software for with a bit of help here and there), TdF Tipping Comps, This year's Rogaine, Carpark Climb, Denman Night Crit, and I've created a couple of Perpetual Trophies like the Honeysuckle Hammer and the Trophy Handicap trophy. I've made promo videos for the club for bunch rides, the Novice Program and recap videos of events. I've taken photos at races and have decorated my bike as a cardboard reindeer one year and a sleigh another for the Christmas Norman.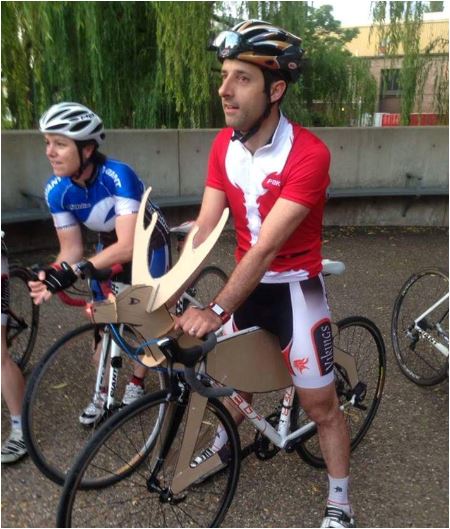 One of these days I'll learn how to ask for help, but I've have had a ball doing it all!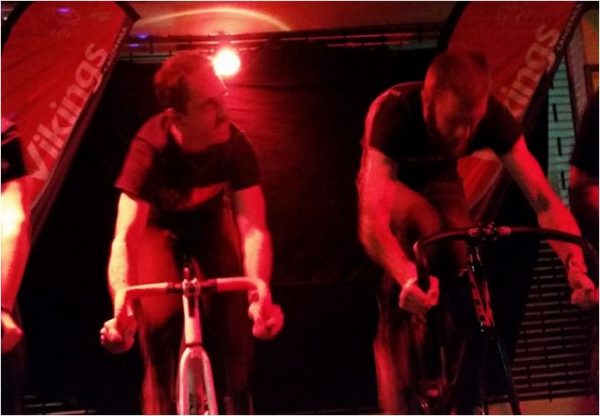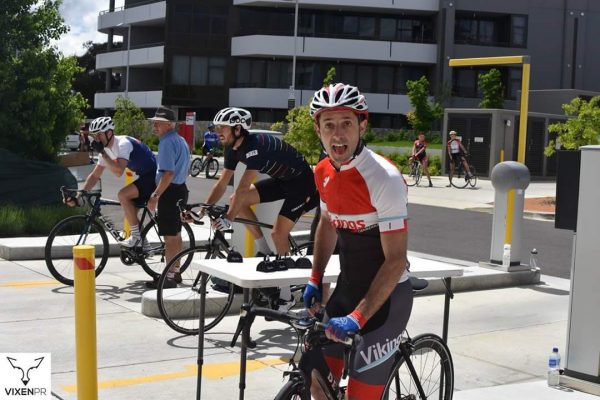 What are your recollections of your earliest years?
Rocking up to the Norman and having Jamie Young do the briefing. For some reason I thought he was Simon Dwyer for ages before I ended up putting names to faces. One day Jamie described the pace of the fast bunch as 'Bayonet the wounded' and that description has stuck in the back of my mind as pretty accurate.
The Norman used to leave the ANU a different way and head down Alexandrina drive and over Scrivener Dam before we had a few too many incidents with cars and trucks. Once we had some plumbers throw a plastic pipe fitting out of a car and into the middle of a 20+ sized bunch which was quite amusing looking back on it knowing that nobody came down but it was pretty scary at the time. It was always terribly cold going down past the Dam in winter time too – somehow it took me about 4 years to discover fleecy knicks!
Speaking of cold, I remember freezing my ass off on the Novice Program while John Armstrong yelled at us doing Team Time Trial drills at roads around the AIS. Heaps of fun, but my aerobic fitness was pretty non-existent when I started and it was hard work keeping up with the likes of Tom Behrens. The Novice Norman used to do a different route and head out through the suburbs of North Canberra as well. Michael Milton used to organise the Novice bunch in those days and it was always a good reality check for how fast you thought you were going when Milto was keeping up with you on just the one leg.
I also remember riding a kermesse out at the Driver Training course near Queanbeyan and a short hot-dog crit on Dairy Flat rd.
What have been some of the high points of your years with the club?
Winning the Stockinbingal Handicap in 2012. An awesome race that was totally on the limit from start to finish – as all handicaps should be. My bunch had a great group of other club members in it and the reason our bunch worked so well together was because all the Vikings were on the same wavelength.
My first Tour of Bright. Rolling out of Bright, going through the roundabout just out of town on the front of the bunch. I remember looking back and seeing 100 riders strung out behind me and the 7 or 8 behind me were all Vikings. Rolling out to the first sprint point I had a rider from another club comment to me that the Vikings looked like they meant business.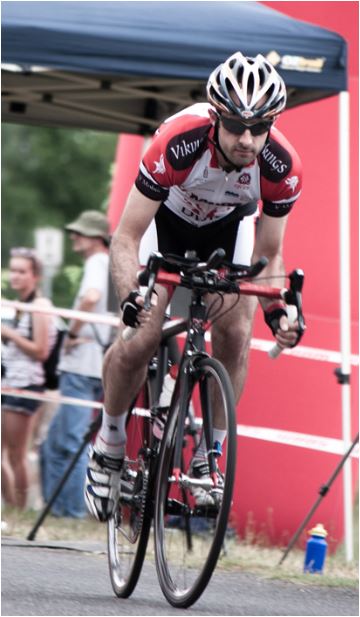 Being part of a Vikings raiding party to the CCC Christmas Crit in C grade where we went head to head with Team Quon. We didn't win, but it was a great bit of teamwork and more flat chat racing.
Being nominated by Deciana and Ben to succeed him as Club Captain (he may be little, but they're big shoes to fill).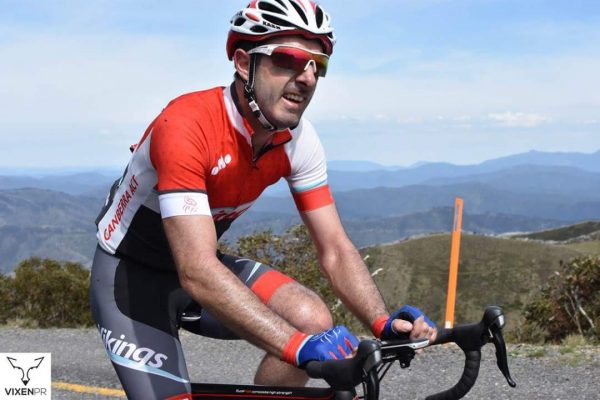 Seeing the Novice Program and the Norman go from strength to strength. When I started riding the Norman we would only occasionally have enough riders to make 2 bunches and now we regularly have 5 bunches through the summer months.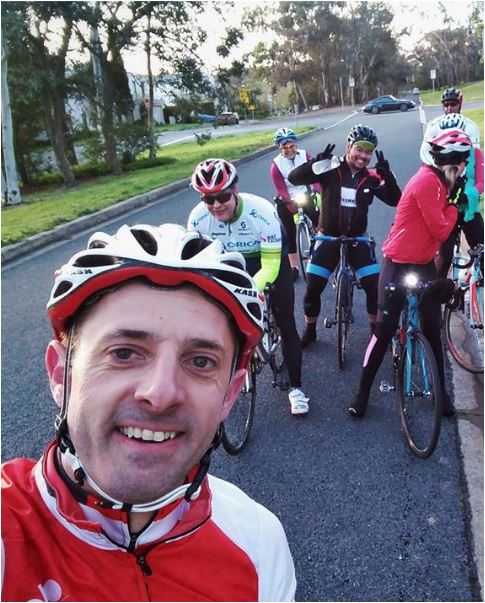 What were some of the low points?
Breaking my collarbone in my first crit season. Sometimes lessons are learnt the hard way and I was pushed off the crit track on a very windy crosswind day and I had a pretty spectacular over-the-handlebars right in front of Lisa Keeling's kids who were playing on the kids playground. Thankfully Daz was on hand to assist me into an ambulance.
Driving all the way to Stockinbingal in 2011 then realising I had forgotten my shoes. I managed to borrow some from the Maccas sponsored Wagga guys, and then proceeded to get 2 flats during the race – it just wasn't my day.
Seeing anyone or hearing of anyone crash.
Defending cyclists and cycling on social media.
The search for a new kit went on for way too long. The end result is fantastic, but it would have been great if it was about 2-3 years earlier. Lots of things just got in the way.
There were some moves to create teams within the club a few years back with V-Mobile, V-Maxx, SpeedShop, Sirens, Dev squads etc etc, all with different kits, or variations of kits. Whilst this did have its benefits, I think the down side was to fracture the membership somewhat. I think a lot of this stemmed from people's deep down dislike for the kit. For what it's worth, I quite liked the Telstra Tower kit but I know some people hated it and thought it was unflattering to some body shapes. Alls well that ends well though.
Any issue where the police got involved was never a fun time.
How has the club change over your period as a member?
I think the club has become a little more accessible to non-racing focused members. I think it's a positive thing as it broadens the membership base and gives us a platform to do non-racing things where we can all just enjoy being out on a bike. It's a tricky balance, as we're a race focused club and will continue to be into the foreseeable future, but I think we're getting there.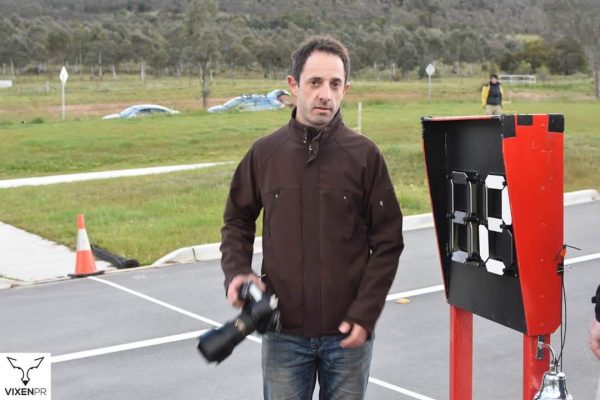 What was your greatest achievement with the club?
Pinning on the Club Captain's #1 race number signed by 4 of the previous club captains.
Who were the memorable personalities in the club during your tenure and for what reason?
Jamie Young. Would always manage to say something humorous during the Norman briefing.
Simon Dwyer. Softly spoken but a font of knowledge about cycling, training and so many other things.
Ben Long. The model to which I hold myself up against. A gentleman off the bike who knows bluster from BS. A great bike handler and consistent performer on the bike. Another guy who knows a lot of stuff about a lot of stuff – just be like Ben.
Boz (Jeremy Rhind). An enigma wrapped in a riddle wrapped in a joke that you know is hilarious but you still just don't quite get. Don't ever change Boz 🙂
Rob Fisher. One of my best mates and I wouldn't have joined the club if it weren't for him.
Deciana Speckman. An amazing diplomat (not surprising given her job) and the most effective meeting chair that I've ever seen. The DeeeTrain is also pretty handy on a bike.
I remember Frances McNamara stopping the Medium bunch at the Embassy one Norman and giving us all a total bollocking for crappy riding in the bunch. Totally warranted, and as a bunch that day was exactly what we needed. It was also good to see that people care about the quality of riding in the bunch and how to ride a bike properly.
Jack – because Jack.
What was/were some of the lighter hearted moments of your time with the club?
2nd coffees after the Norman talking bollocks with Simon, Ben and Rob.
Riding the 165km Fitz's challenge for the first time with a big bunch of Vikings. Steve Callahan and I were on the front around Tidbinbilla tapping out a solid tempo and we heard the conversation spark up between Deciana and Dave behind us. We looked at each other after a while and knew something was on the boil so we decided to stay on the front a little longer to give them more time to chat and get to know each other.
I remember riding up Mugga Way one Norman with a skinny girl wearing a white winter jacket one cold morning. We pushed each other all the way to the top and I thought to myself "Gee, this girl can climb pretty well for someone who hasn't been on the bike much". That girl would go on to win a stage of the NRS and is now President of Cycling ACT. I rode up Mugga Way recently and now that she's just had another child and had quite a few months off, I can just hold her wheel. Love your work Lisa Keeling.
What can the new generation of junior and novice cyclists learn from you old folk!
Race with your head. I'm rarely the fastest or strongest in a race, but by racing with my head I can at least put myself in a decent position to have a crack at the end.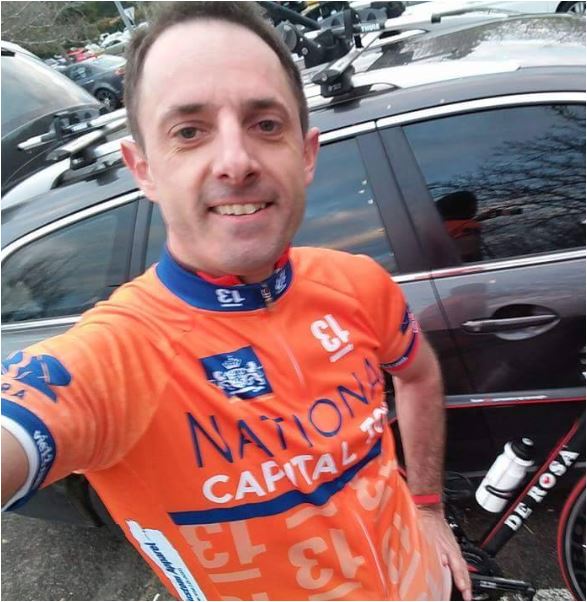 Have fun and get involved. Doesn't have to be a lot, but if everyone helps out the club just a little bit each year then it's greatly appreciated.
How would you describe your own cycling back then, compared to now?
Sprinter. Actually I'm more of a short effort sort of rider (no short jokes Rob Fisher) which lends itself to sprinting quite well. I have a bit of a reputation of being a pretty good tactician in a race. Will have to try my hand at a bit of track racing one of these days.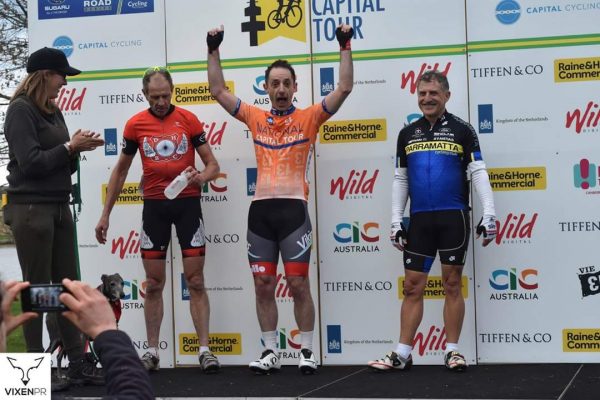 Is there anything else that you want to share?
So many things, but I'll just say that the club is a fantastic friendly club to be part of, and that's in large part due to the people and the club culture.