The Spring Novice Program is now open for registration!
The VCC Novice Program is aimed at bringing new riders into the world of road cycling and racing in a safe and supportive environment. The program is a highlight every year, for participants and mentors!
The 8-week program will start from 5 September and go until 26 October 2023.
Entries close Monday 28 August 2023.
Signing up for the program
To participate in the program you will need to register through EntryBoss and have an AusCycling membership (Race licence or Lifestyle).
We recommend only signing up for the program if you can commit to attend at least the first 2 weeks. If you miss these sessions we have found that riders will not have enough confidence to participate fully in the rest of the program.
You can chose to sign up for either the:
Tuesday group (session 1) – for those comfortable riding with an average speed of 25km/h or more – starts 5 September
Thursday group (session 2) – for those more comfortable riding with an average speed below 25km/h – starts 7 September
Each group will be limited to 15 and the full program costs $165, which includes a free Vikings Cycling Club jersey valued at $130!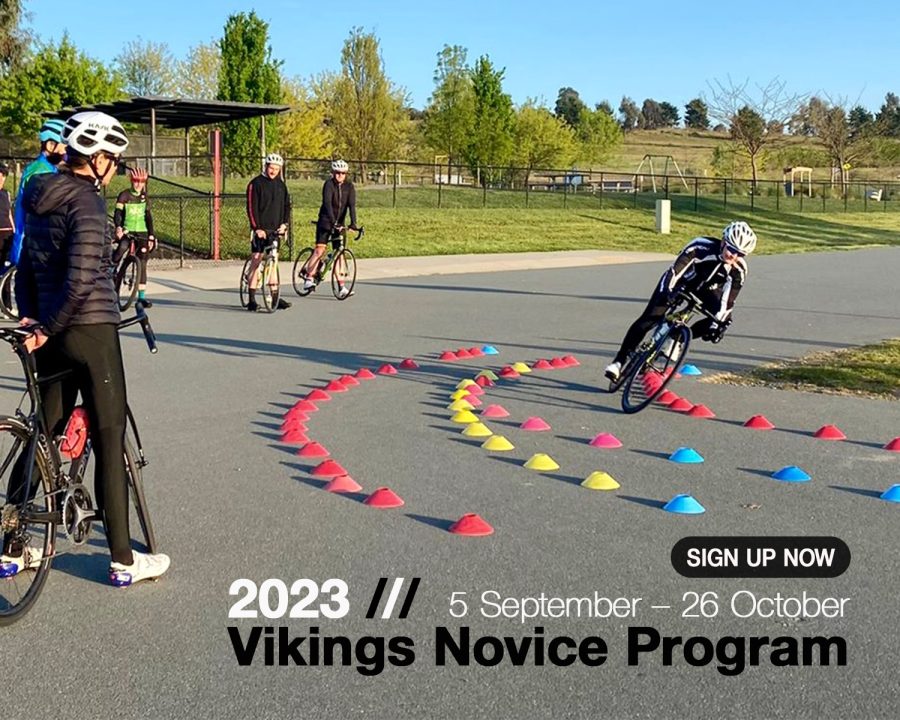 Which group is right for you?
While each group will follow the same program, we try our best to align people's goals and speeds so you can get the most out of the program. However, if you can't make the day more aligned to your ability, don't worry you can still join the other group.
Tuesday group (Session 1)
This group is best for those who have ridden a bit and have some fitness under their belt. In particular those flirting with the idea of giving racing a go or pushing their limits in some endurance events.
If you are a bit speedier but looking for people to ride with regularly, or maybe you just want to nail some commute segments on Strava, then this group is probably best for you.
Thursday group (Session 2)
This group is good for those who have ridden a little bit on their own and want to meet other people to ride with (safely).
If your wanting to challenge yourself by taking on an organised participation event for the first time, or just keen to see where cycling takes you, then this group is probably best for you.
Questions?
Email us at novice@vikingscycling.org.au