In the 2019/20 track racing season, a handful of VCC juniors were fighting it out at NSW events, with training regularly interrupted by bushfire smoke and extreme heat. The Junior Track pathway for Under 15s and Under 17s is challenging, with tough qualifying times compared to the bigger states. Our VCC juniors are resilient and determined, training throughout the harsh heat and hideous winters on an outdoor track in Narrabundah. 
For those not familiar with track racing and junior representation, to be eligible for ACT selection, the riders must post at least one qualifying time in one of three timed events – the Flying 200, the Individual Time Trial (covering 500m from a gate start) and the painful Individual Pursuit over 2000m from a gate start. They also compete for results in Sprints, Keirin, Scratch, Elimination and Points races, all providing selectors with a view of their capabilities.
In 2019/20, two Vikings juniors qualified to represent the ACT at the Australian Track Nationals – Angus Steadman (Under 15s) and Lily Stratford in her last year at Juniors (Under 17). Bailey Macdonald was the next closest to selection however missed a qualifying time by just 0.05 of a second in the Individual Time Trial – a disappointment that was only comforted with the incentive that 'there was always next year'.  
With less than a fortnight to go for our two Vikings to depart for the Anna Meares Velodrome in Brisbane, the pandemic hit and Nationals was cancelled. After such a challenging season leading up to Nationals, the devastation could not be greater for these VCC Juniors who just loved to be on a bike.  
In 2020/21, two VCC Juniors were selected to represent the ACT at Nationals – Bailey Macdonald and Sara Buerger. Some new faces but all with the same determined VCC spirit and commitment. Unfortunately, the 2020/21 Track Nationals were again cancelled just days prior to the event. So for two years running, our hard working Juniors were unable to represent the ACT on the national stage however again, that disappointment just fuelled the desire for continued improvement. 
We are now so close to the 2021/22 Australian Track Nationals and it looks like there will be no stopping us this year. Our Juniors have continued to find ways of improving through lockdowns, the lack of competitions and everything else the pandemic threw at them. Along with riders from Canberra Cycling Club, this year has seen a strong group of juniors striving for that elusive qualifying time for Nationals.
You would have seen them racing around the Bundahdome, at Supercrits, bunches like the Norman or Prod and when they've been on our local road races. So, who are your talented VCC Juniors?
Firstly, a special honourable mention must be made for Sara Buerger. After making the team last year as a second year Under 15 but not being able to attend with the cancellation, she then stepped up to the very competitive Under 17s. A bigger gear, faster races, larger bunches and racing with what is regarded as the most talented cohort of u17 women (including record holders and national talent squad members). Throughout the season, Sara battled it out in the front groups, with none other than Lauren Bates (CCC) and others in the national spotlight undertaking a massive learning curve due to the lack of events held in the past 18 months. And although Sara was not able to get a qualifying time, a challenging prospect in the ACT for a first-year Under 17 rider, she is definitely on track to be there next year.
2022 National Junior Track Team from VCC 
Emily Watch, a second year Under 15 gun has recently moved back to the ACT from Queensland – their loss is our gain! Em worked hard over winter to build her skills and become a well-rounded rider. After winning all her events at the ACT Championships, she went to the NSW Champs, where she took out just about every event, usually with her trademark final 500m sneak attack on the bunch. Em qualified with a 13.51 seconds in the Flying 200 and 40.74 seconds in the Individual Time Trial.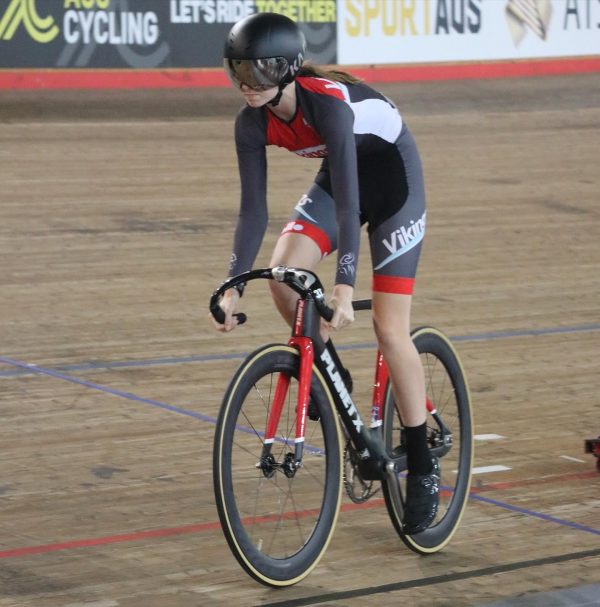 Bailey Macdonald, a first year Under 17, showed his talents last year at the Under 15 level with podium potential but could not chase a medal with the cancellation of Nationals. Bailey is a punchy rider who can sprint and fight the lead riders in the bunch events. He is well known for his uncanny ability to read a race and position himself perfectly almost every time. At the ACT Championships, he spent the weekend dualling it out with Eddie Marcks from Canberra Cycling Club (one of the fastest out there) and at NSW Champs, Bailey was never outside the top 6 in every event. Bailey achieved qualifying times in all three events – 11.83 seconds in the Flying 200, 35.5 seconds in the Individual Time Trial and a 2:26.00 in the Individual Pursuit.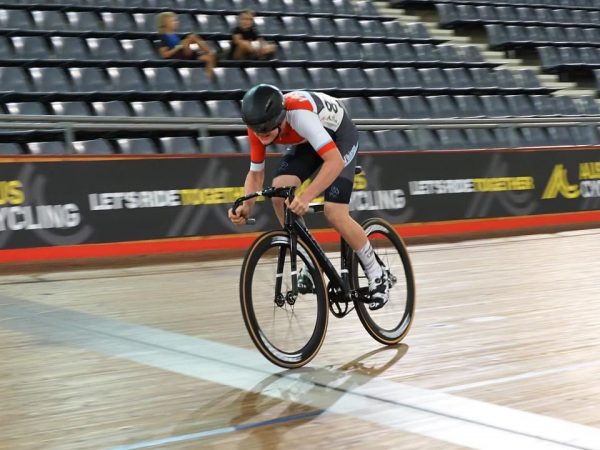 Angus Steadman, a second year Under 17, has battled injury all summer, however after missing qualifying times in 2020/21, he was determined to get that qualifying time this season. Angus is a talented pursuiter with an excellent track record in the Individual Pursuit and an ability to pull back a split in the bunch races. Angus is a dangerous rider on a final three-lap attack! Focussing on the Individual Pursuit, he set good times all summer, posting a qualifying time of 2:23.94, just 1.94 seconds off the ACTAS benchmark time.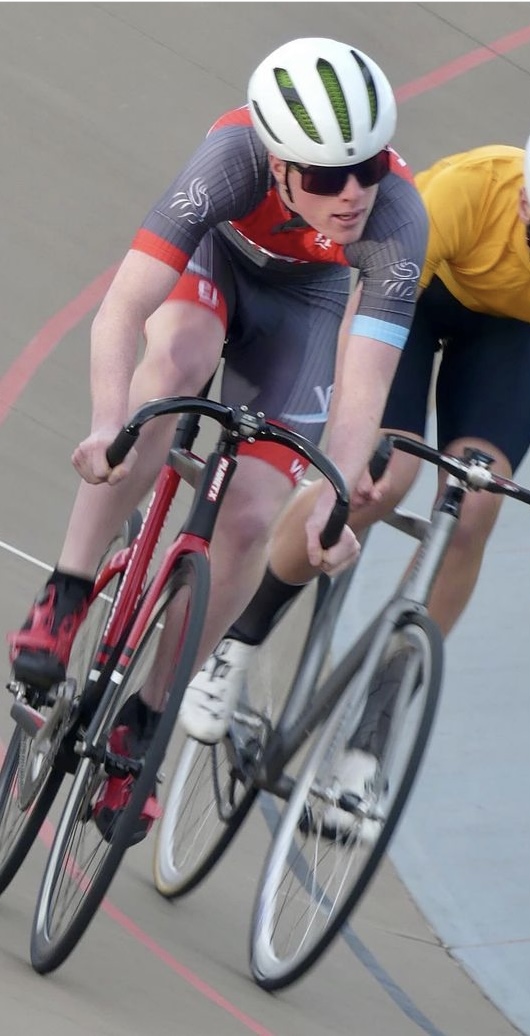 Bailey and Angus will also ride the Team Sprint with Eddie Marcks (CCC) and the Team Pursuit with Hayden Stevens (CCC) and Eddie Marcks where it is thought that perhaps the long standing ACT Team Pursuit record could be in reach.
The coaches
Long-time VCC member and coach Sian Mulholland, responsible for mentoring some of Australia's best riders to medals at World Championships, Commonwealth Games and the Pro Tour, will be the Head Coach for the team. Throughout the year, the VCC Juniors are coached and supported by a superior Vikings coaching team – Gavin Macdonald, Daniel Grillo, Jim Veal and Ray Gorrell. 
National Junior Track Championships
The National Junior Track Championships kick off at the Anna Meares Velodrome on Thursday 24 March. Our Vikings Juniors will be joined by the equally talented Canberra Cycling Club riders – Chloe Pragt (Under 15), Lauren Bates (Under 17), Angus Withington (Under 15), Hayden Stevens (Under 17) and Eddie Marcks (Under 17). AusCycling will be live streaming the event via the AusCycling YouTube channel. The Seniors Championships is also on the same weekend and will be broadcast as well. 
And the future only gets brighter with the VCC Saturday Junior Track sessions having record numbers with a few notable youngsters stepping up to Under 15 next season.
Junior track racing is the best way of providing a safe environment where the young cyclists learn all of the critical skills needed to be a racer and exceptional bike handlers. The track is a supportive, inclusive and fun community, and more often than not … we had Mum and Dad also giving it a go!
Please join us in supporting our VCC Juniors heading to Nationals this weekend. Vikings is so very proud of you all.