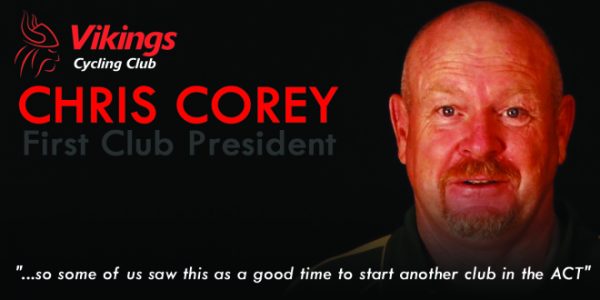 Chris, great to catch up with you at last and it's a real pleasure talking to the first ever VCC President. What originally got you into cycling?
No worries at all.  I was a late starter to competitive cycling, I started in my mid thirties after breaking a leg in a motorcycle accident. I remember riding to work one morning along Ginninderra drive, must have been around 1989 and being passed by a group of cyclists drafting a motor bike. I thought this looks like fun and tried to tag on, hooked. Next thing I'm looking at a quality racing bike.
Where did it go from there?
I was pretty involved in the Canberra Cycling Club for a few years and was Vice President for one year. I also edited and published the Whispering Wheelie for a year as well. When I turned 35 I found I could be competitive in the Vet category. Cycling became part of my daily life and I enjoyed the challenge of improving and competing for the next ten years.
During this time I enjoyed being part of the Belconnen bunch until my wife and I moved to Banks to live. I also started a new job as a fireman which meant I trained mostly on my own because of shift work. The rural roads down south were great and I didn't have to worry about traffic.
So what was the catalyst for the formation of the Vikings Cycling Club?
I can't remember what year but members of the Canberra Cycling Club were pushing for the ACT to become a separate federation. Unfortunately the Sydney clubs all saw this as a move for their members to take the places of our members who had consistently filled NSW State teams. They effectively locked us out of their championship events. Some of us saw this as a good time to start another club in the ACT, not because we were not happy in that club, but to tap into the resources of the Vikings sports clubs and give legitimacy to the new Federation.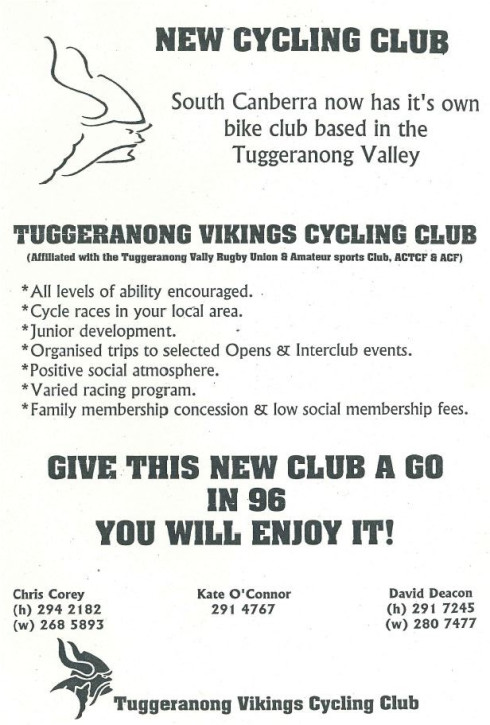 Unfortunately many CCC members treated us the same way the NSW clubs were treating CCC. Anyway we stuck at it and had humble beginnings with some modest community events. We were able to run street races on the road in front of the hyperdome on one occasion and identified a couple of new criterium circuits that were used for a number of years.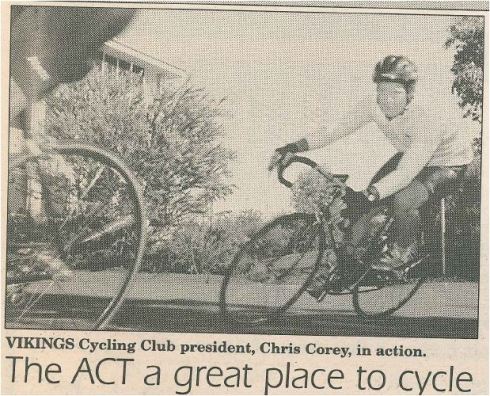 What was your greatest achievement with the club – aside from actually establishing it that is?
I think the greatest contribution was helping to affiliate with the Tuggeranong Vikings Sports Club. Tony O'Connor, Tony's wife, Dale Inabinet and I put in a lot of effort to start the club. I can't believe the same club has grown to the membership you now enjoy.
You moved on to other pursuits in the following years didn't you?
That's right. I can't recall how long I remained involved, but after I had a touchdown in 1998 I had trouble with a dislocated shoulder and started to enjoy sleeping in too much. Around this time i got involved in basketball coaching with my teenage children. I stayed involved for many years even after they stopped. Again I was involved in another Vikings club and enjoyed coaching at Junior National level before i undertook a teaching degree at UC with Michael Aisbitt. When i finished I was offered a job in a very remote indigenous community in the NT and that is where I am still.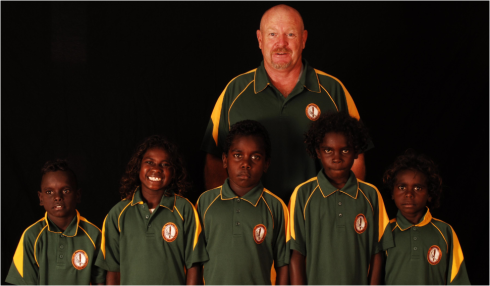 So what type of rider were you back in the day and what were some of your best results?
Because I was always around the 95 kilo range I had trouble keeping up with the skinny guys on the hills. I always enjoyed going down hill and if I could get over the hill not far off the back I could hurt the skinny guys down hill and on the flat rolling roads.  I had a couple of goes at the Goulburn to Liverpool and many NSW Country handicaps.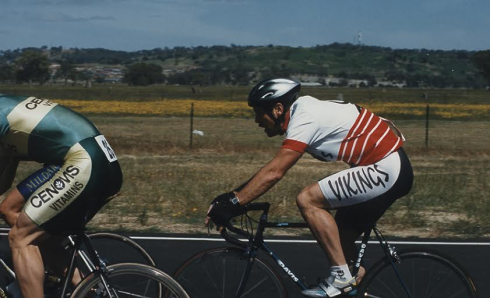 Unfortunately it was mostly for fun except for a third place in the Ken Dinarville Hcp at Wagga. I tried the Foster Tuncurry Vets and got 5th in the VET 1 road race. I think I was the ACT Vet 1 Road, Criterium and Track champ in one year. I also liked riding the the Narrabundah velodrome, the Queanbeyan track and the Christmas carnivals in Sydney.
Who were the most memorable personalities from those early years?
I remember travelling with Robert McLachlan to a few Sydney events and watching him clean out McDonalds at Liverpool on the way home. Some good times with Graham Toohey, Keith Knights and Herb Router who have all left us.
Merv Mcdonald from the CCC was a big influence on me before he retired to Qld where he also started another new club. He had a hand in many ACT elite riders careers.  I watch the big races in Europe and enjoy remembering those riders as juniors dishing out punishment to the rest of us in club races.
What words of wisdom do you have for our current members, both young and old?
Hindsight is a great thing, but I suppose we saw a need to do something and did it as best we could. I think taking responsibility and getting involved is a good piece of advice. If you want to have some influence, get involved. I certainly feel good that Vikings has grown so much.
For myself competitive cycling gave me much enjoyment. It has taken me many years to learn how to ride a bike and smell the roses though. I still recall speeding down the smooth Freeway to Sydney in a pack of around 50 to 60 riders without any feeling in my hands and about half an hour later being caught by the elites half way up the Razorback and going straight out the back door to a lonely ride into Liverpool. I remember the first club race where I could ride hard with the strongest club riders.
Anyway it's a different world out there now and I often check the internet to see what is going on. I watch all the events on Eurosport and follow Mathew Hayman and Michael Rogers and remember watching them grow up as juniors and then drop the rest of us at club races as they got older.
Fantastic Chris.  Thanks so much for sharing and we have our fingers crossed that you can join us for our 20thAnniversary Dinner on December 8th.
There could be a chance I can be in Canberra for the big event. It all depends on whether my long service leave gets approved, I'll keep you informed but in the meantime, please so hello to Tony and Dale for me.