Dale – thanks so much for not only making time to catch up but also for bringing along all of this fantastic club memorabilia. 
So you attended that infamous first meeting?
Yes, that's right. I attended the original meeting to establish the new club in November 1995, and then assisted in its establishment.  I was an original committee member and then Secretary for several years, and was President from 2003 to November 2007. Over the years there was always lots to do so I was kept busy editing the newsletter, coordinating clothing and being membership secretary at various times over the years.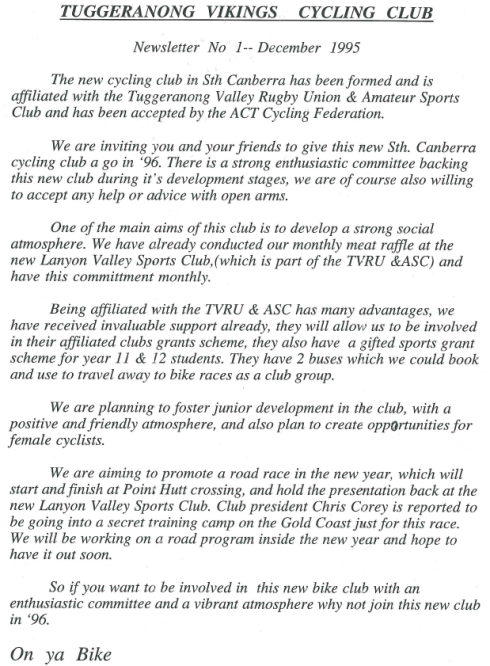 So a pretty interesting and ambitious calendar of events in those early years?
Yes. I was very involved in organizing many club events, particularly the Tuggeranong Bike Festival to raise the club profile and encourage junior cycling. I also co-ordinated the southside JCs junior skills program to grow junior membership.  I was also keen to encourage more women in cycling, through ACT Cycling targeted 'Women on Wheels' programs.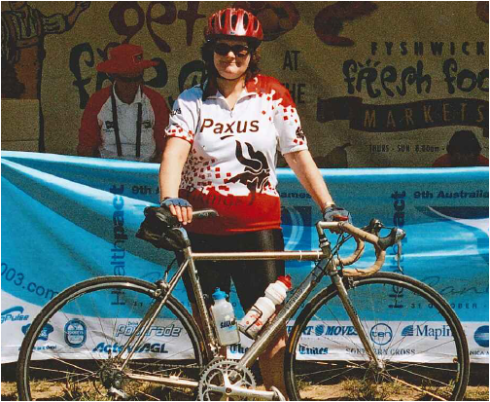 What are your recollections of the formation of the club…or your earliest years?
My son David had started cycling in about 1993, and was a Canberra Cycling Club member.  I was a typical involved parent, who also loved recreational cycling, so I began engaging with the cycling community. David was also racing mountain bikes with CORC by 1995.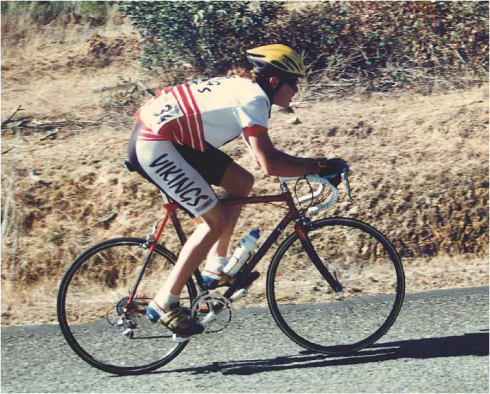 I heard about the proposed establishment of a new club based in the Tuggeranong area, where we lived, and went along to the inaugural meeting, attended by several other mountain bikers.  I was pretty excited at the opportunity to develop a new more inclusive, family-friendly club, focused on increasing participation in all forms and levels of cycling.
This idea was shared by a number of people putting up their hands to help form the club. ACT Cycling was very supportive in growing the sport, and we had financial support as an affiliated club with the Vikings Group.
We started with some big ideas, to create new events and encourage family memberships. We ran the first Tuggeranong Bike Festival in November 1997, as part of Bike Week. Though the numbers were small we got some local publicity and were very encouraged.
What were some of the high points of those early years?
Seeing growth across what was a diverse membership. We saw cycling as one community so we had strong mountain bike membership, as well as riders doing road or track.  We were able to support talented riders with small grant and we provided an alternative club which linked really well into the Mountain Bike, BMX, Veterans Cycling and Pedal Power groups.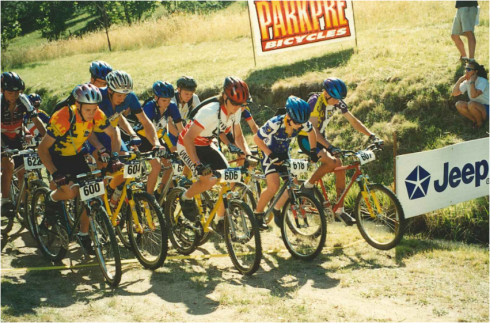 Creating new events and finding new courses was always great fun such as the criterium course at Symonston, and road circuits around Tidbinbilla Rd and tracking station area. We also promoted bike safety and fitness with Healthpact grants, and inspired kids with talks from elite riders, such as Tracey Gaudry and Neil Stephens, at the Tuggeranong Bike Festival.
Our first major national event was the Canberra to Cooma Cycle Classic in 2000.  It was successful the first year, but way too expensive to run the second year.   Also the Tour de France trivia nights at Erindale Vikings club were a highlight and helped with fundraising.
Overall, having a great group of volunteers and committee members who shared the club's values and worked very hard was a real highlight.
What were some of the low points?
As the smaller club in the ACT it was a struggle to attract and keep juniors and there was some tension with the larger Canberra Cycling Club, in doing combined calendars and championship events.
The expanded 2001 Canberra to Cooma event was very difficult due to financial pressures and getting road approvals in NSW. It took a while to recover from that.
The split with mountain biking at a national level affected membership and it was always a struggle finding and training enough coaches to develop juniors.  Oh, and in those early years membership numbers didn't quite match our grand ideas!
How did the club change over your period as a member?
The club gradually grew, with a good representation of masters riders, as we tried to link with the Veterans Cycling Club. We also got a boost in junior riders from running a Junior Cyclists (JCs) southside program with help from John Armstrong. The ACT Academy of Sport talent ID program, with coach Glenn Donney, also delivered a group of young southside riders to the club, including successful elite riders Michael Matthews and Nathan Hart.
The novice program run by keen young member and coach Simon Dwyer, really boosted our numbers and helped develop the inclusive club culture of participation and fun.
What was your greatest achievement with the club?
I think there are three.
Promoting and maintaining a welcoming club for riders of all ages and levels which eventually grew the club membership significantly.
Using my administrative skills to help get grants to run junior and women's cycling programs (I was also on the ACT Cycling committee).
And finally being the cycling co-ordinator for the 2003 Australian Masters Games in Canberra, and working with so many volunteers from all the clubs to deliver what was a great event.
Who were the memorable personalities in the club during your tenure and for what reason?
We were a pretty serious bunch, most of the time!  I enjoyed working with all the committee members and volunteers.  I made some good friends including Graeme Cameron, David New, Tony Cory and Shayne Borger.  Hazel Hoskisson was a great committee worker and friend and we had fun judging hill climbs with our French style picnic table set up to the envy of all!
What was/were some of the lighter hearted moments of your time with the club?
We had some good times at the Vikings Club Awards nights, with quite a few winners over the years too. We also enjoyed organizing and attending the Tour de France Trivia nights.
It was also good to celebrate the end of club races with coffee and cake set up at the start/finish area to share the riders stories.
What can us current generation of club members learn from you old folk!
Us 'older folk' knew how to run things properly, using all the administrative skills we could muster for the smooth governance of the club. We also needed patience, to build things up and develop a positive culture and reputation for our small new club.  Always remember to show your appreciation for the talents and contribution of all your members.
We appreciated and encouraged the skills of younger members, such as setting up the website (thanks Dylan Cooper) and other technical innovations for us 'oldies'!
Just keep up the good work, look for new opportunities and be proud of what you're doing well!
How would you describe your own cycling back then, compared to now?
I just loved to ride a bike! If I had been serious, I would have been a sprinter, as I don't like hills, and have a sprinter's physique. I trained by commuting by bike to work (20 kms each way) and some weekend rides out Tharwa way.  I also did a few week-long Big Rides in Queensland, NSW and Tasmania.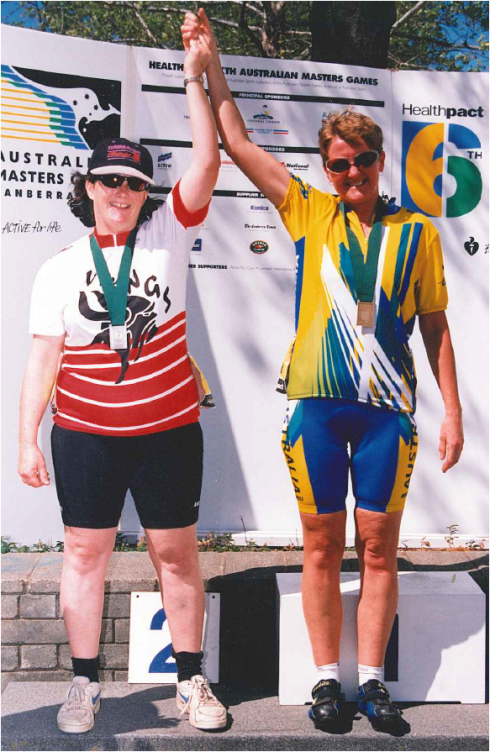 I only raced to build my fitness, and encourage other women to have a go! Someone had to come last, but I enjoyed being out there.  I participated in nearly every Tour de Femme race hoping I would improve my time.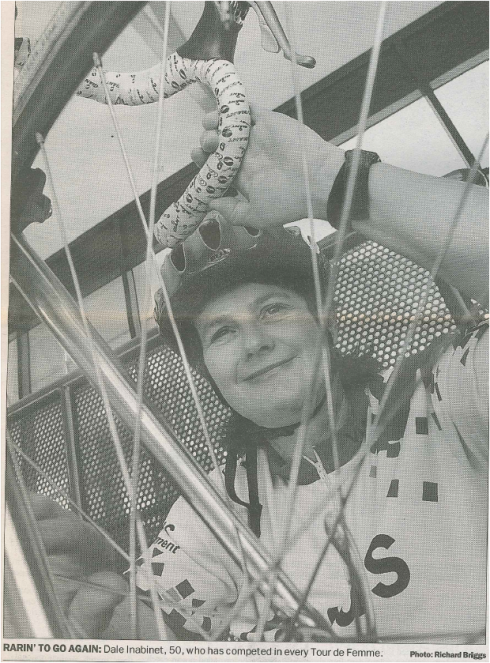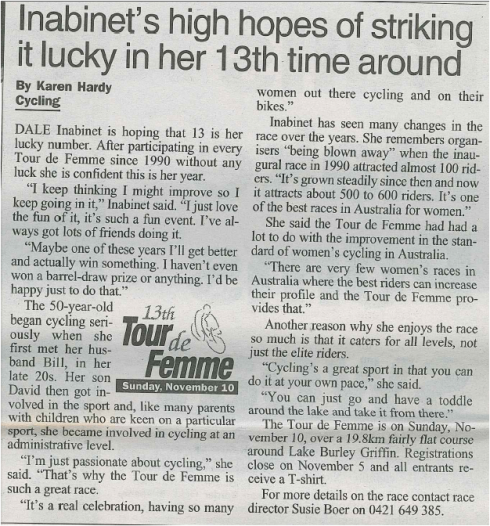 I'm now very much a social/coffee rider, in training for cycle touring in France (enjoyed Brittany last year and Provence in 2013).
Before I let you go Dale, tell me about the original jersey designs
I can't quite recall who the designer was for the original kit but we worked with the manufacturer Giramondo on the final design from memory.  I do know that I wasn't that keen on the horizontal stripes as they make one look bigger, but most of the cyclists were skinny!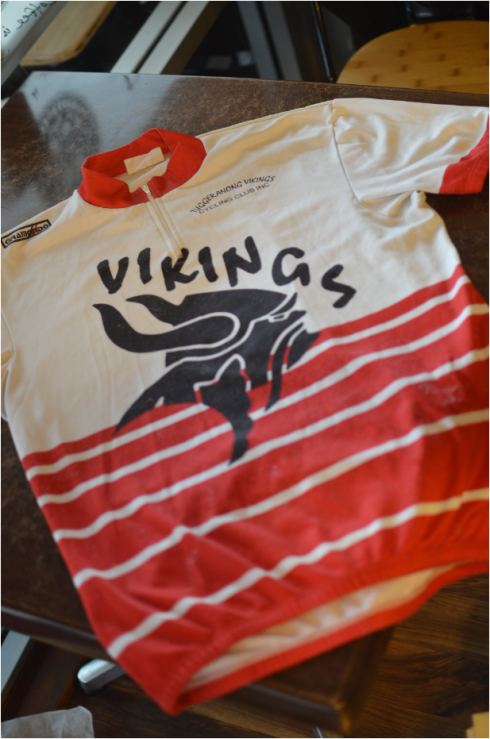 David New was in charge of kit designs as he liked that side of things. I know he worked with a designer he knew on the 'small squares' kit and it was presented) to the committee in about June 2001 with Paxus (John Thorn) providing $1500 of sponsorship to subsidise costs to members.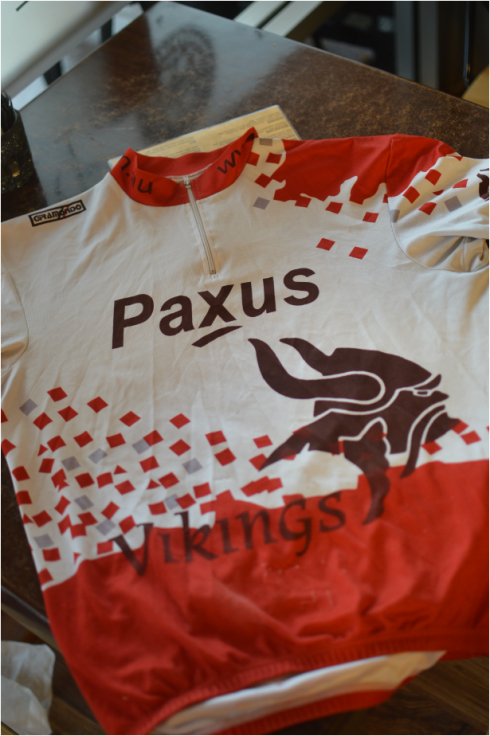 This has been an amazing look back Dale – Is there anything else that you want to share?
Thanks for the opportunity to remember the club's early days, and I'm proud of the way the current committee is continuing the good work into the future.  As a relatively young club it is maturing nicely, still keeping to its original values of participation and friendly competition.
The new events in the club's 20th year (car park racing and night crits in a new suburb) typify and celebrate its 'founding fathers/mothers" principles.