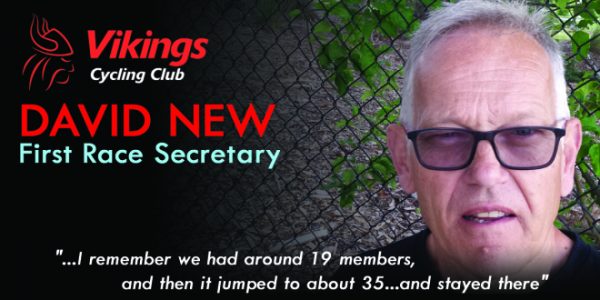 David – I'm glad I found you and nice to meet you. How did you find yourself at VCC back in 1996?
I was actually a member of the Vikings rugby team and liked to keep myself fit by commuting on my bike to work.  I did join the Vets and took up racing and then got quite involved with track racing.  I heard about Vikings forming a cycling club so I was also at the first meeting.
I was heavily involved in organising the racing side of things with the club within a close knit group of Dale Inabinet, Hazel Hoskinsson and Tony Cory – no relation to Chris!
I kind of inherited the presidency and remained in the role for about 6 years over the late 1990's to the early 2000's.
What are your recollections of those earliest years?
The ACT Cycling Federation said we would need around 30 members to be considered a success and we started with 19, grew to about 35 and that's where we stayed for some time.

We worked pretty hard to get the membership up by running events in front of the Tuggeranong Hyperdome and asking current pro riders including Tracey Gaudry to come down and hold sessions
We would also close off the car park at Vikings and run kids skills sessions which attracted kids as well as the all-important parents.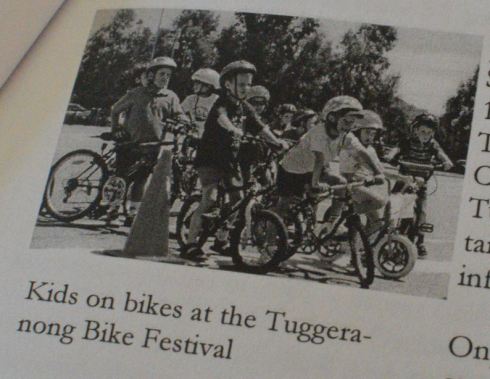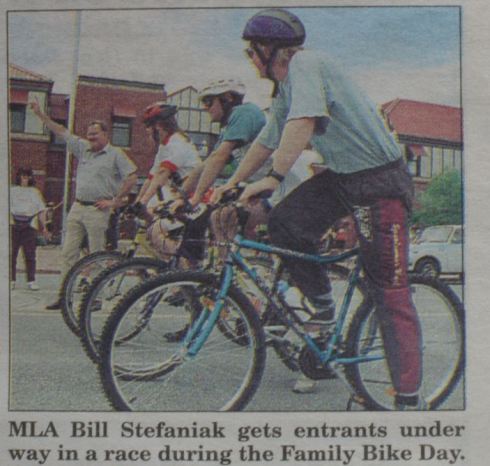 By 2001 we got up to 75 paid members.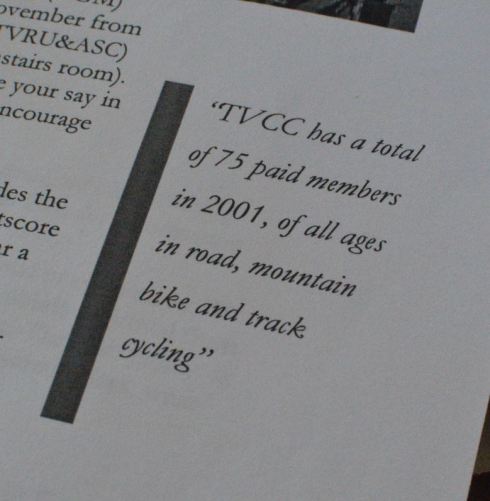 Another memory that sticks out for me is organising crits around the ANU once a month with a course that ran past University house, past the back of John Curtin and back on Liversidge street.  Because I worked there I was able to get temporary road closures and it worked pretty well as long as we kept eye on the bus timetable!
What were the high points of your years with VCC?
Without doubt working with Dale, Hazel and Graeme Cameron.  We were a great team and oversaw growth in the club which was very satisfying.
Also the Monday afternoon Time trials at Stromlo that Hazel and I ran for a while were a highlight. It was a very simple arrangement where I would put out a few signs, set up rego in the back of my car, and Hazel would go down the road 6 kilometres to the turnaround.  Not sure you could do that today.
From a personal perspective, my high point was a 5th in the Coota-Coolac Classic.  It was great to actually win some prize money but it wasn't so great giving it all away…and more after getting caught speeding on the way home.
What were some of the low points?
I don't really consider them low points, just challenges that we had to deal with.  It was always a frustration having such a small membership over the first 5 or so years as we had no trouble attracting juniors but as soon as they started to show promise and get results, they would gravitate towards CCC where there a lot of their mates were.
The other challenge that I understand still exists today is running races and events and chasing volunteers…and the fact that it always fell to a small reliable group.  While it's one thing to be reliable, as the years went on you simply get worn out.
How has the club changed over your period as a member?
The membership.  It's incredible to see the size and number of bunches leaving the ANU each Friday morning and you cannot underestimate the influence of Simon Dwyer and Lyndsay Vivian in creating something that people wanted to be part of.  After idling along at 30 or so members for a long period, their influence saw us break through 100…and just keep going.
What was your greatest achievement with the club?
Bringing some order to the race program.  I was quite focused on establishing new race routes, mapping them out and recording distances which allowed us to mix and match parts of courses to keep the racing interesting.
I did enjoy my years as President as well.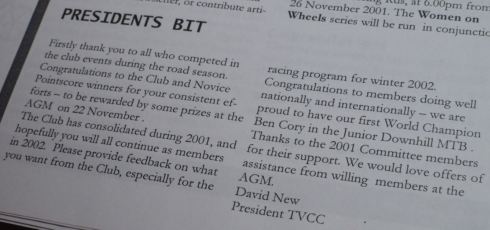 Who were the memorable personalities during your tenure?
Same names again – Dale and Hazel.  We were a great team and it was a real pleasure working with them in those early years.  Peter Gann, our Treasurer for a period who got our finances back in order when we were deep in the red. Graeme Cameron was a great racer and a really good bloke.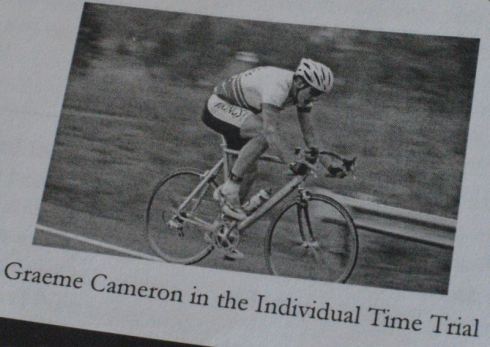 Among the riders, Sluggo was larger than life, I remember Bling Matthews when he was with the club.  Jim Veal, Mark Harris and Steve Jones also are great characters.  And of course, Michael Aisbitt – amazing rider and an equally brilliant coach even to this day.
Any funny stories from your early days?
It wasn't fun at the time but I rode the Wagga Handicap with Jeff Haslem.  We ended up out on our own and were working together and pushing the pace really well.  It occurred to us after a while however that we hadn't seen anyone…and sure enough we had taken a wrong turn and were out in the middle of nowhere.  We ended up riding round and round trying to work out where we were and how to get home….as the sun was going down.  Thankfully we made it home before complete darkness and we were surprised to see the finish line still set up waiting for us to finish.
You had a bit to do with the Jersey designs as well didn't you?
Yes, I had an interest in that and worked on a few different designs over the early years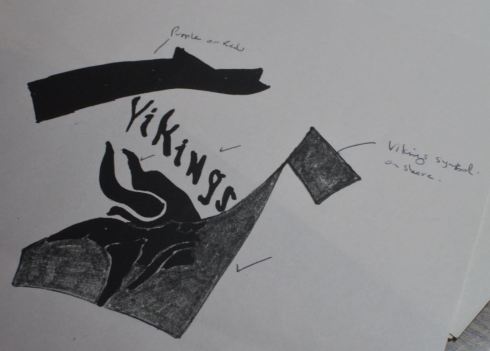 Any tips for the new generation of junior and novice cyclists?
Get involved. Not many people are aware of the effort required to put on events and keep a club running.
How is your riding now compared to then?
In my very early days I was naïve.  I used to tear off the front because I thought everyone was going too slow…and sure enough I would be swamped and then out the back door at the business end of a race.
I also wasn't that flash on hills with the first one usually taking care of me in any race.  Michael Aisbitt certainly improved my hill climbing ability but I was always a sprinter and I loved racing crits.
These days I ride with a small group of mates – usually 40-50km and being retired, I have the luxury of being able to get along to a Monday bunch ride…down the coast near Tuross and Durras.  I am interested in getting back to the track as I haven't done a lap yet on the new Bundadome – one for 2017 maybe.
Thanks David for all you have done for the club.  See you at the dinner and hope to see more of you in 2017.