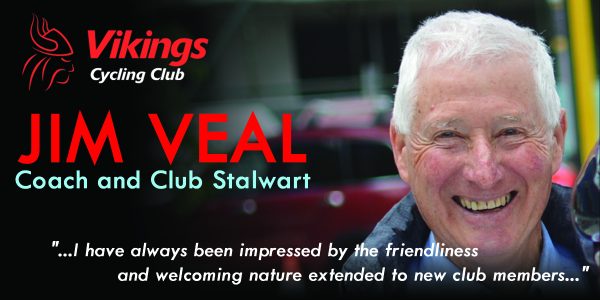 Jim, you have been a great friend of the club during our 20th Anniversary year and it's great to be able to profile you.
Over what period were you engaged with the club and in what capacity?
I am one of the 'new boys' on the block, joining in 2005 following gentle pressure from Tony O'Connor and Neil Skipper to join them in the Team Sprint at the NSW Masters Track Championships.
Several years later the Club President, Simon Claringbold encouraged me to be a club delegate on the Cycling ACT Committee, subsequently taking on roles of President, Vice President and currently as a Committee member. In more recent years I have fulfilled roles as a Commissaire and Coach with our club.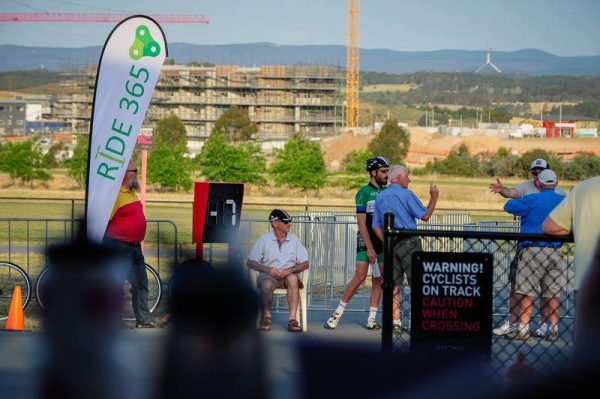 What are your recollections of the formation of the club…or your earliest years?
In my first year as a Vikings rider I went to Dunc Gray Velodrome with Tony O'Connor and Neil Skipper to contest the NSW Masters Track Championships. Our Masters group guided me through the events explaining each race before I rolled out onto the track. They must have done a good job because I ended up with four medals. I remember asking Michael Aisbitt how to ride the time trial. He said …'start as fast as you can, go as hard as you can, for as long as you can'. That advice got me my first Bronze medal. This wonderful supportive environment paved the way for the formation of the Masters ACT Cycling team.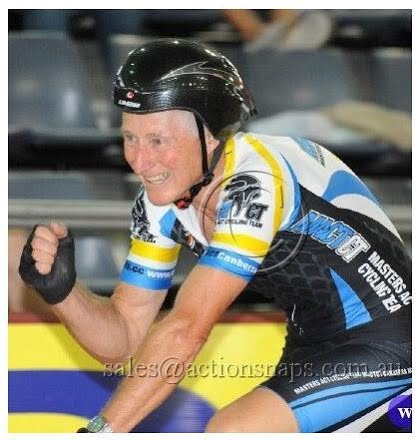 What were some of the high points of those early years?
Our MACT group was a cohesive unit travelling to both road and track events in NSW, Victoria and Tasmania where we rapidly established a reputation as a formidable team. When it was announced that the World Masters Track championships were going to be held on the velodrome in Sydney in October 2007/2008/2009 our Masters group resolved to take a strong team to compete. Early morning training sessions behind the motor bike, racing at Queanbeyan track as well as Sunday afternoon sessions at Narrabundah Velodrome allowed us to prepare for individual and team events. The success of this venture can be gauged by the number of our riders who gained eligibility to ride in the Australian team kit, the substantial number of podium placings and several Rainbow jerseys earned. We also had the best Cheer Squad.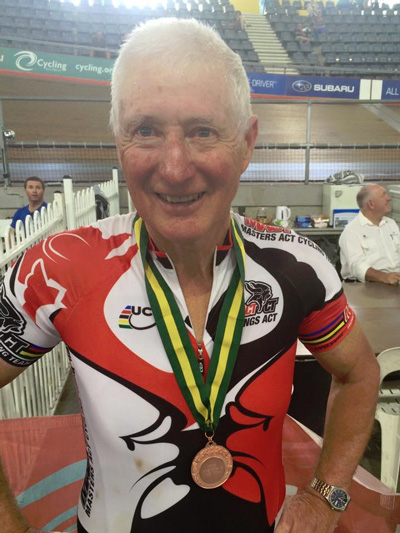 What were some of the low points?
There weren't too many low points during these years as we were focused on our mission. Training at Narrabundah velodrome during cold hard winters was a bit of a challenge.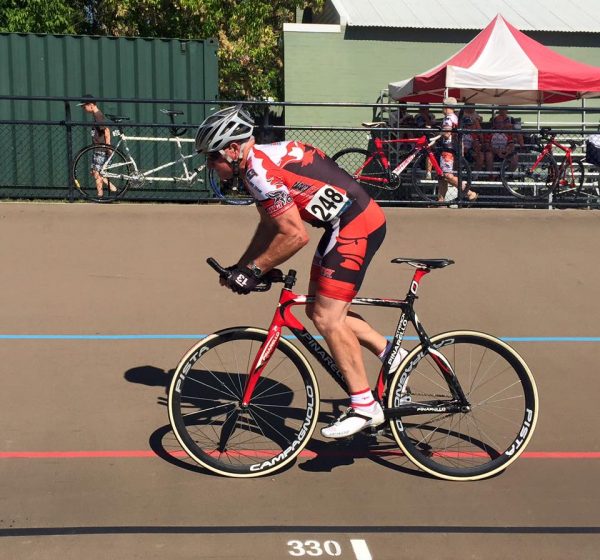 How did the club change over your period as a member?
Since joining the Club I have always been impressed by the friendliness and welcoming nature extended to new members regardless of their ability on the bike. This characteristic has not changed and I hope it never does.
What was your greatest achievement with the club?
My greatest achievement as a Vikings cyclist came about through the support of my team mates, my family and the insightful guidance and support from Derek and Michael Aisbitt.  In 2009 I won a Rainbow jersey in the Scratch race at the World Masters Track Championships in Sydney.
Who were the memorable personalities in the club during your tenure and for what reason?
Tony (Sluggo) O'Connor encouraged me when I first resumed track racing on my old steel Bates bike. He was with me at every major championship event, ensuring I had the right gearing and giving me incredibly valuable advice about how each race may unfold. His experience and wisdom underpinned my pathway to success.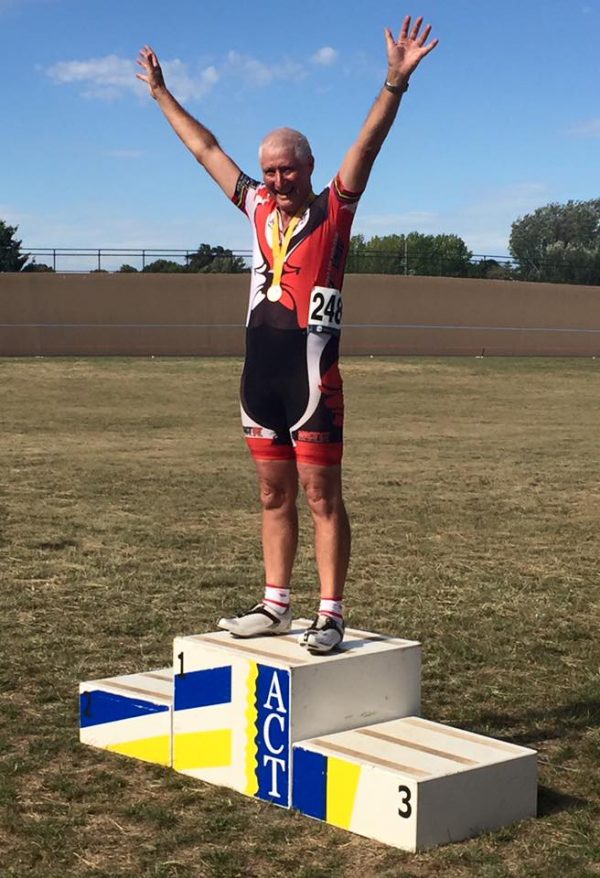 Simon Claringbold was heavily involved as both a rider and an organiser in the formation of the MACT cycling team.
Michael Aisbitt – we watched in awe as he won World championships and set World best times. In his quiet, highly effective manner Michael has inspired and nurtured riders of all ages. As a rider, his focus and commitment as well as skill on the bike provided an unparalleled level of leadership. As a coach he just brings out the best in each rider.
What was/were some of the lighter hearted moments of your time with the club?
In 2008 the MACT team travelled to Tasmania for the National Masters Track Championships. Our close knit group stayed together for the duration of the event with catering done by Kate and Lyn. The evenings proved to be a bit of a riot where successes, disappointments and dubious race tactics were discussed.
What can us current generation of club members learn from you old folk!
My advice is always to ride with integrity, look after your fellow club members, enjoy your riding and be prepared to take on new challenges.
How would you describe your own cycling back then, compared to now? (sprinter, climber, track rider, endurance rider, attacker, wheel sucker, master tactician, social/coffee rider)
As a kid with Noble Park club in Victoria I was a good all round performer. Our club was small with only a handful of Junior riders. I can still remember my first ride on the Melbourne Velodrome which had been built for the 1956 Olympics. From then on I had an enduring love of track racing. On the track I have always been an all rounder with a pretty good sprint and pretty good endurance. I think this helped me to do well in events such as the Scratch race.  In recent years I have not been able to compete as I used to but I still enjoy riding, especially on the tandem with my Grandson.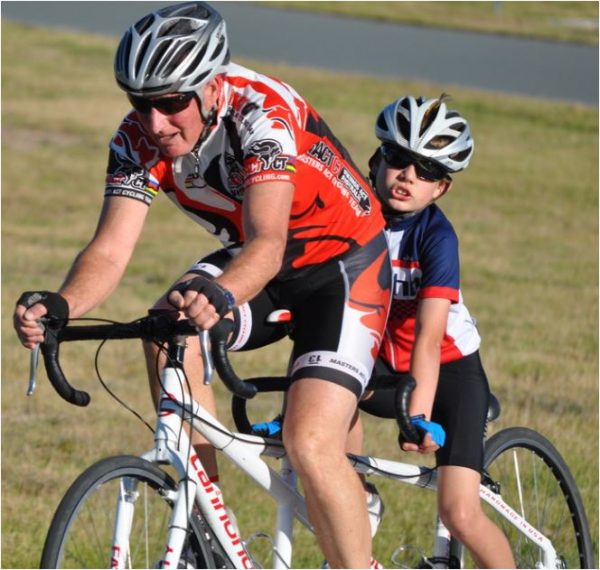 My coaching role is immensely satisfying as I watch young riders tentatively begin riding fixed gear bikes to confidently doing 'flying 200s' from the top of the banking in a short space of time.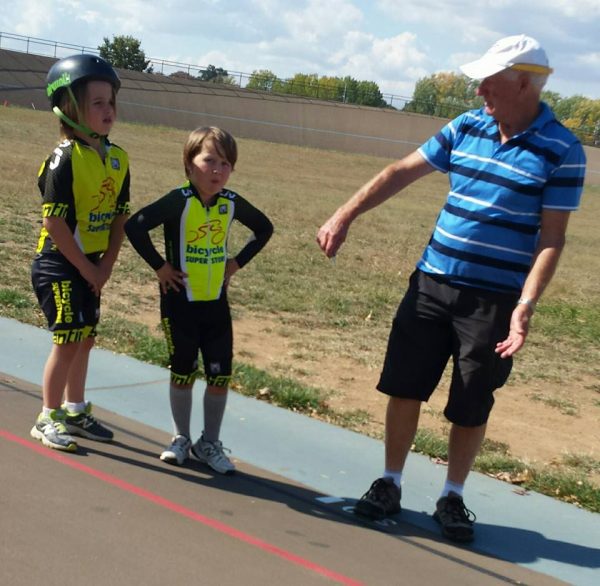 Is there anything else that you want to share?
When Tony and Neil asked me to be their lead out rider in the Team Sprint in 2005 I told them I was 'just a club rider'. Fortunately they could see what I couldn't. Their persistence and faith in me enabled achievements that I never thought possible. At each step along the way I kept thinking 'this is as good as it gets'. It was only when I stood on top of the podium wearing the Australian team skin suit and watching the Aussie flag go up as they played our National Anthem that I really knew the meaning of 'this is as good as it gets'.
Believe in yourself and pursue your passion with patience and determination.